The Ozzy Osbourne-fronted Black Sabbath will play in New Zealand this weekend for the first time in 40 years, with an album to follow in June. The metal legends lifted the lid on 13 at a closed session in Auckland.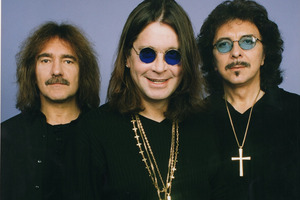 The founding fathers of heavy metal arrived in Auckland this week ahead of two dates at Vector Arena, and one of the first items on their to-do list was to treat a small audience to a listen-through of a new album.
13 is the first all-new Black Sabbath album to feature legendary singer Ozzy Osbourne since 1978's Never Say Die!, but by his own admission he had checked out long before then.
The voice behind fan-favourite songs War Pigs and Planet Caravan said he considered 13 to be the successor to 1973's Sabbath Bloody Sabbath, while subsequent albums were meant to pay the bills.
"I lost the spark for it," the 64-year-old said. "I was just a drunken junkie at that point."
By 1979, the drinking was too much for his bandmates, and he received his final marching orders.
Tony Iommi, the well-spoken guitarist whose teenage factory accident led him to change his playing style and ultimately set the tone for heavy metal to follow, said there were no lingering tensions in the band any more.
"Give him a few months," joked bassist Geezer Butler.
"Give him a few days," said Osbourne.
Tension arrived in a few minutes when a journalist asked the singer if he was okay, following recent reports about the state of his marriage.
"I'm still breathing," Osbourne said in glib dismissal.
Iommi quipped that his bandmate would need to be carried out of the conference at the end, and then the focus was back where it belonged - on the music.
13, produced by Rick Rubin and slated for release on June 7, is heavy with the low-tuned, grinding chords and fluent blues leads that set Black Sabbath apart from other bands of the psychedelic era.
Founding member Bill Ward's vacancy has been filled on the new album by Brad Wilk, a drummer best known for Rage Against the Machine's audacious funk-metal beats. Despite some differences on paper Wilk, an American some 20 years younger than his bandmates, was accepted into the band's environment comfortably. They said he had jazz talents reminiscent of the legendary Gene Krupa.
Wilk was also favourably compared with Bill Ward himself.
The Birmingham band, who first announced themselves to the world in 1970 with two albums - the eponymous debut and the genre-defining Paranoid - acknowledged their influential status and all the Black Sabbath covers that come with the territory.
"I heard a copy of Iron Man played on accordions," Iommi chuckled.
"Accordion man," muttered Osbourne. "What's the f**king world coming to?"
* Black Sabbath play Auckland's Vector Arena on April 20 and April 22 with support from Shihad. The Herald's Scott Kara will present a track-by-track analysis of 13 this weekend.