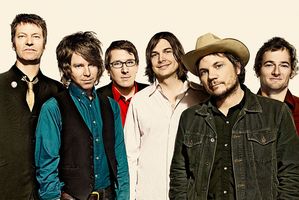 There aren't many international acts who like New Zealand so much that they'll return to perform here almost every year, but American alt-rockers Wilco have long been including Auckland on their tour schedule - their trip in April will make it four times in the past six years.
"That's pretty good, isn't it," frontman Jeff Tweedy cheekily notes down the phone from their studio in Chicago. "No, we're very excited to come back, we always look forward to being in New Zealand, it's one of our favourite places. I really enjoy walking in the Auckland Botanic Gardens."
When they last performed here in 2010, they played a memorable show at the Civic, having just released their seventh studio album Wilco (the album) - which was partially worked up at Neil Finn's Roundhead Studios. Three years later, they've released their eighth album The Whole Love and performed something like 150 shows in support.
It was an album that once again proved the group are still capable of incandescent inventiveness, ranging from the flaming art pop of Art of Almost to gentler, reflective One Sunday Morning, with all sorts of rock experimentation in between, anchored by Tweedy's emotive vocals.
Eight albums in, there's no sign of any creative plateau, or playing it safe - although Tweedy's not exactly sure how they've avoided such challenges.
"I guess there are people out there who might argue that we have plateaued at some point," he laughs, "but I think we've just kept moving forward.
"We're always either making records or touring - and both of those activities involve us being present in the moment and present in our creativity. Otherwise I think maybe we're just lucky that we're all still very musically curious and still really inspired and engaged in listening to other people's music, and that's pretty sustaining. And I guess in some ways it's probably helped that we've never been enormous. We've never had huge massive hit records and that can really change people's perceptions."
While the entire band have a multitude of side projects which they work on (when time allows), Tweedy has been particularly busy of late, working as a producer on the latest album by Low and also for Mavis Staples, who'll be supporting them on this Australasian tour.
"I think it's becoming one of my favourite things in the world to do. I haven't done much producing. I've made a lot of records in my life, but being able to apply that experience to someone else's vision and help them relax and taking responsibility for helping them realise that vision is extremely gratifying.
"And at the end of the day, there's also a really liberating aspect to it, because I know I'm not going to bear the brunt of the slings and arrows," he chuckles.
They might seem like quite different artists, but it was the same thing that drew him to working with both.
"They're both the real deal, and very singular and unique in what they do. You can't get Mavis Staples' music anywhere else and I don't think you really hear anything else that sounds like Low - and I think they're both artists where, if you just put a microphone in front of them and get out of the way, it's gonna sound awesome."
Tweedy was also involved in the celebrations of Woody Guthrie's 100th birthday, having recorded two albums' worth of previously unreleased Guthrie songs in collaboration with Billy Bragg back in the late 90s, which were re-released last year. The songs have been part of the Wilco fabric for a decade, but the fact that they were rediscovered and given a new outlet remains particularly inspiring for Tweedy.
"It was a privilege to be part of that and to be welcomed into that family, and to be trusted with that legacy. I think that's ultimately what a songwriter is looking for, is for their songs to live on and achieve some sort of immortality, and he definitely has that.
"And as a songwriter myself, I love the idea that I could write a song that could become something different and a part of someone else's life."
As if they weren't busy enough, the band have also been planning their fourth Solid Sound festival, to be held in June. Not content with playing the usual festival circuit, the band decided to create and curate their own festival, which is held at the Museum of Contemporary Art in Massachusetts and its extensive grounds.
"We all do a lot of things outside of Wilco and we always thought it would be fun if we could all play a festival together, but there aren't any festivals that we've ever heard of that would book all of our diverse side projects. So we just thought of it as a way to present the bigger picture, in terms of a Wilco philosophy or something like that, just a broader way to present the band and what the band likes and what we're about.
"We have a lot of people in our crew who are artists and a lot of friends who create things, and we also invite bands that we admire. It's been an amazing blast. We get to daydream about what we want to create and then do it."
Though, sadly, they can't bring the three-day festival to New Zealand, you can expect to see more than a fair glimpse of that creative vision in their April show - and Tweedy promises not only will the set list be different from last time they were in town, it'll be different from any other date on their Australian tour, too.
"I guess over the years we've become more confident about mixing up the set. The repertoire has always been big, but I think we can pull out more of those songs with confidence now, playing 80 to 150 shows per year, so we could play anything. Each audience is a new collaboration."


Lowdown
Who: Left-field American rockers Wilco
Albums: A.M. (1995), Being There (1996), Summerteeth (1999), Yankee Hotel Foxtrot (2002), A Ghost is Born (2004), Sky Blue Sky (2007), Wilco (the album) (2009), The Whole Love (2011).
Where and when: Wellington Town Hall, Friday April 5, Auckland Town Hall, Saturday April 6, supported by Mavis Staples.Alt-rockers Wilco's latest tour will make it four visits to New Zealand in six years - and they're not sick of us yet, writes