Dunedin persuades Aerosmith to walk their way for a concert next month.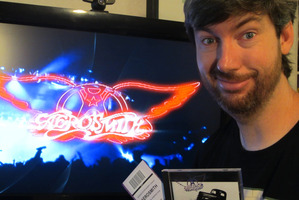 A roof for fans, deal-sweetening incentives and a rumoured $1.2m payday persuaded supergroup Aerosmith to choose Dunedin over Auckland.
Organisers expect more than 35,000 fans to see frontman Steven Tyler and the band at the Forsyth Barr Stadium on April 24.
Jackie Sanders, New Zealand general manager for promoters McManus Entertainment, said the stadium roof was a major drawcard.
Sanders would not confirm Aerosmith was being paid about $1.2m for the New Zealand performance - most tickets range from $129-$199 - but admitted: "For a band of that stature, it gets up into those kind of figures."
Sanders said a number of factors sent Aerosmith south.
"April 24 was the only date available and it would have been too risky to put an outdoor show on in Auckland at that time of the year as the weather is too unpredictable."
Darren Burden, chief executive of the council-controlled Forsyth Barr Stadium, said the venue was keen to attract non-sporting events. Paul Simon is playing there on April 6.
"There is an element of risk putting on a group like Aerosmith, but it is a calculated risk," Burden said. "There is a mix of things that we can do to make the stadium attractive to promoters and there are deals to be done on the likes of rental costs, catering and merchandising. But our shareholder is the city and we still have targets to meet."
Other New Zealand concert promoters told the Herald on Sunday Aerosmith would probably have been offered about $250,000 less to play outdoors in Auckland, because of insurance and production costs.
"Good luck to Dunedin for hosting Aerosmith but it takes more than a roof to make a good gig," Stuart Clumpas, boss of Auckland's Vector Arena, said: "Stadiums aren't built for live concerts."
He's heading south with a big smile
Aerosmith fanatics Michael and Carol Rowse are shelling out more than $1000 to see their favourite band in Dunedin.
Michael, 39, from Howick in Auckland, said seeing the supergroup live was on his "bucket list" - but admits he wouldn't have made the trip south if Carol hadn't bought tickets. She paid almost $400 for two and the same again for return flights to Dunedin.
"If Carol hadn't organised it I doubt if I would have bothered with the hassle of arranging all the travel. Now I can't wait."