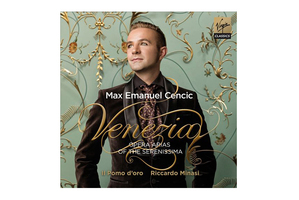 The cover of Max Emanuel Cencic's Venezia says it all. The Croatian countertenor is all elegance, in dinner jacket and cravat, in front of an ornate wallpaper that might adorn the walls of a Venetian palazzo.
Cencic is a star of the countertenor circuit and some may know him from his 2011 duets album with Philippe Jaroussky.
Last year he was one of five countertenors, including Jaroussky, in the all-male cast of Leonardo Vinci's Artaserse, staged by Lausanne Opera.
Venezia celebrates that city's operatic glories in the 17th century and, inevitably, Vivaldi commandeers almost half of its 11 tracks.
The tonal sheen and unruffled lyricism of Cencic's voice is unrivalled in a contemplative aria from this composer's Montezuma, although the relatively well-known aria, Anche in mezzo a perigliosa, has moments where the lower register is wanting in penetration.
Considerable joy lies in discoveries such as an expressive aria from Giovanni Porta's 1716 La costanza combattuta in amore, in which the musicians of Il Pomo d'Oro, under Riccardo Minasi, create rustling leaves and rippling water as if by sonic alchemy.
Spanish countertenor Xavier Sabata stands up for the sexier side of Baroque in Handel Bad Guys, gazing stern and Svengali-like from its cover.
Before Sabata sings a note of the opening aria from Tamerlano, one is swept away by the earthy swing of Il Pomo d'Oro, whose pungent and punchy orchestral work is a major component in the disc's success.
Sabata is not as patrician as his Croatian confrere.
Egeo's aria from the obscure opera Teseo, setting off with "I want slaughter and I want death," seethes with gnashing malevolence.
Check out YouTube and enjoy this performance accompanied by a shot of the singer, with impressive tats, pecs and abs.
Sabata's bad boys are allowed their tender moments, as in an aria from the even more obscure Amadigi di Gaula. Beautifully sung, it is perilously close to the celebrated Lascia ch'io Pianga, but the incisive, high-energy accompaniment takes it to another level altogether.
And, if you want the bristle of real attitude, Sabata and his band are at their best dispensing the fury of Tolomeo in Giulio Cesare.

Max Emanuel Cencic: Venezia (Virgin Classics) - 4/5 stars
Xavier Sabata: Handel Bad Guys (Aparte, through Ode Records) - 5/5 stars
Verdict: "Two countertenors revisit 17th century glories with elegance and attitude."