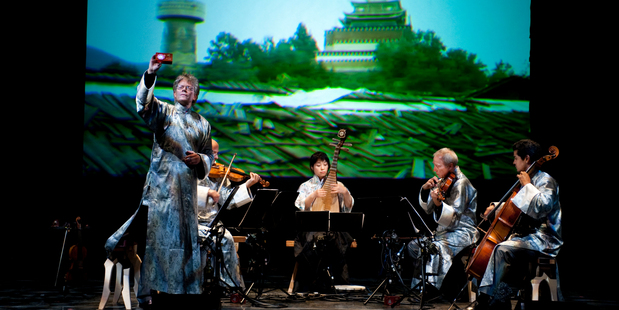 Tonight, when David Harrington takes The Civic stage with his Kronos Quartet colleagues and Chinese pipa virtuoso Wu Man, he may think back to the group's first New Zealand visit, 25 years ago. The occasion was Wellington's 1988 International Arts Festival, back in those enlightened days when Television New Zealand filmed a special studio concert by the group, including a recent commission from New Zealand composer Jack Body.
When Kronos included an appearance at New Plymouth's Womad in its 2007 concert hall tour, Harrington made it clear that the quest for new, exciting music was far from exhausted. "There's still a lot of ass to be kicked," he told me at the time. "Like the idea that the best music has already been written."
This year, after 40 years together, and a repertoire that has composers such as Lutoslawski and Terry Riley as the equivalent of old masters, Harrington sees dealing with contemporary composers as "one of the advantages of staying with something so long".
"I'm constantly inspired by what composers are writing for us these days. So many of them are aware of what has already been written for Kronos and seem to have this desire to create something that also offers a new perspective for us as players."
It is clear Harrington is not too keen on their music being labelled exotic, despite working with other musicians from Mali to Mexico. The 2002 Nuevo album went south of the border, inspired by a trip to Mexico after the death of his son. He explains, "I knew the culture had an intrinsic understanding of death and its place within life."
Seven years later, when recording the CD: "Every note was a sound we heard when we were there. It ended up being a thank you note to Mexican culture for what it gave to us."
Death has a part to play in Tan Dun's 1994 Ghost Opera, which Kronos and Wu Man present tonight at The Civic. The group's association with Wu goes back 21 years when Harrington was introduced to her brilliant playing of the Chinese lute by Chinese composer Zhou Long.
"I didn't even know what a pipa was at that point but her performance reminded me as a violinist of what it was like to hear Jascha Heifetz for the first time," he reflects, "which must be pretty much the same for a guitarist on first hearing Jimi Hendrix".
Tan Dun describes the musicians in Ghost Opera as having a dialogue with past and future life, calling on all five musicians to invoke an atmospheric soundscape with stone, metal and water bowls.
"Many people think of it as his masterpiece. Every moment in the work is so direct and so connected to all the other moments. It opened the door for a lot of what he wrote subsequently and takes what a concert is to a new realm."
The second offering on tonight's programme, A Chinese Home, is a collaborative effort between Kronos, Wu Man and director Chen Shi-Zheng, who some will remember for directing the 1998 Wellington production of Jack Body's opera, Alley, in which he also played the terrifyingly wrathful God, Yen Wang.
The initial inspiration for A Chinese Home came when Wu saw a recreated 18th century Chinese house at a Massachusetts museum and reflected on her own background. The result, however, has been an exploration of Chinese culture throughout the past century and into this one.
"The expanse of Chinese music is huge," says Harrington. "This is a dramatic and musical way of trying to give the audience a sense of some of the sounds, instruments and colours that exist throughout Chinese music."
Although he promises a theatrical engagement, Harrington assures us that ears are in for a treat from first to last. "The first is a choir of bamboo instruments, loud and blaring, and the work ends with the stage being invaded by all these sound-making toys. I hope it will be as magical for the audience as it is for us."
Harrington puts great store in the power of his art.
"Music is an act of the imagination and can take us to places we would never be able to go physically. It can take us to places emotionally that we have no control over and I think that's its job. That's what music can do so well, with a carbon footprint that is incredibly slight."
Returning to Aotearoa New Zealand, a land in which many of us are concerned with the invidious carbon footprint, Harrington laments he can't come here often enough. "Every time I've been I've felt a certain clarity. You've got something figured out in New Zealand that we need more of in the United States. I'm not sure I know what it is. But I feel it every time I'm here."

Auckland Arts Festival
What: Kronos Quartet with Wu Man
Where and when: The Civic, tonight at 8pm
What: Wu Man solo recital
Where and when: Auckland Town Hall Concert Chamber, tomorrow at 5pm