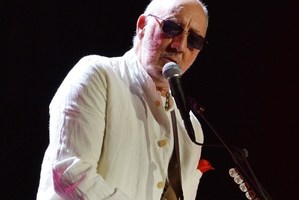 The Who's Pete Townshend has apologised to a seven-year-old girl and her father after he mouthed a profanity at them during a recent concert in Canada.
According to the Toronto Sun (via The Hollywood Reporter), the rocker mouthed an expletive at 50-year-old Eric Michael Costello and his daughter, Janey, during the band's concert in Hamilton, Ontario on February 19.
Per the report, Janey, who was hoisted on her father's shoulders and waving a placard that said "Smash Your Guitar, Pete!", and Eric had moved toward the stage when they were singled out by the guitarist.
In video footage posted online, Townshend can be heard saying on stage, "Go away with that sign please, just go away with it, just go away with it.
Don't bring your children...use them. I want to tell you two words but I can't because you've got a child on you."
He then mouthed the words "f*** off".
"I expect a 70-something-year-old man to respect the fact there's a seven-year-old girl standing in front of him," Eric told the Toronto Sun.
"Whether it was directed to just me or both of us, you can't tell - she was on my shoulders and he was looking directly at us. But nobody talks to my seven-year-old daughter like that. Nobody tells my kid to f*** off."
He added, "It all happened so quickly. Some people have explained that (Townshend) had thought that I was using her (to get up to the front) and I want to make it perfectly clear that is not what happened at all and I support my daughter in what she wants to do."
He claimed that his daughter is a "huge" Who fan and was the one who painted the sign.
"I'd like him to know in some small way he broke a little girl's heart," Eric said. "Both she and I were huge fans of the band and now I'm left trying to explain to her that heroes are not infallible. Instead of being this joyous, momentous occasion, it turned into a sad, regrettable kind of incident."
He concluded: "I don't want people to think I'm exploiting the situation. I don't want anything out of this. I would appreciate an apology from Pete Townshend, but I certainly don't expect one."
'APOLOGIES AND CONDOLENCES FROM MY SIDE'
The 67-year-old rocker (with the help of a local radio DJ) has since addressed the incident, reportedly sending the family a personal letter of apology.
"Apologies and condolences from my side, and very best wishes to you and your family," Townshend wrote, the Toronto Sun reports.
"I asked my friend Mike Tyler to find you so I could tell you that I am so sorry the story about us blew up the way it did, but also to tell you that I sympathise with you both, and your daughter's mother, and that I am most certainly not angry. I was not angry on stage either. I was in rock star mode...the big mouth."
He went on: "I could have handled it differently. I thought of sending someone to find you both and telling you I was not upset, but we were flying to New York straight after the show, and had no time to spare. I wish things had been different. It would have saved you from all this furor.
"I thought your placard was fun," he continued. "I had a job to do (to announce our musicians) and I didn't want to lengthen the show by trying to deal with you directly and in detail.
"I was also worried that your daughter looked a little frightened as the crowd started to follow you down the aisle. The ushers should not have let you leave your seats and walk forward. All that said, you did nothing wrong."
Townshend was reportedly making arrangements to meet the pair in April.
Check out video footage of the exchange here.
FAST GOSSIP
And finally...
* Carrie Fisher says she'll return for new Star Wars.
* Did Kate Middleton let slip the sex of her baby?
* All is forgiven? Justin Bieber arrives on stage two minutes EARLY for London concert.
* There's still no official word on whether Jennifer Aniston, as rumour has it, will be trotting down the aisle with fiancé Justin Theroux shortly. Meantime, tabloid tattle will have to do.
* Lindsay Lohan tells Charlie Sheen what he can do with his mentoring offer.
* PETA on Kim Kardashian wearing fur: "She is not a good example to a child or anyone else".
* Elton John requires a separate hotel room for what?!
*Russell Crowe says he isn't dating his Les Misérables co-star Samantha Barks.
* Next! Geena Davis wades into Oscars row, calls out Seth MacFarlane's "disrespect for women" during ceremony.
* She's still one of us: Natalie Portman pushes her own shopping trolley.
* FBI release Whitney Houston files, revealing singer was blackmailed.
* Terminator 2 star Edward Furlong sentenced to six months in jail for violating probation.
* TV series Dexter reportedly to be killed off.
Follow Myrddin Gwynedd on Twitter.
- Rumour Has It