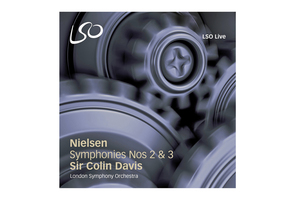 Nielsen: Symphonies 2 & 3 (London Symphony Orchestra, Ode Records)
Sir Colin Davis conducts the London Symphony Orchestra. Our concert halls are not exactly flooded with the music of Carl Nielsen (1865-1931). In fact, the New Zealand Symphony Orchestra's 2007 performance of his Fourth Symphony was the first time the work had featured in its programmes.
Nielsen was born in the same year as Sibelius and the two share a similarly rugged individualism.
Later, Leonard Bernstein suggested that the famous Finn had unjustly dwarfed his Danish counterpart, despite Nielsen's irresistible virtues, ranging from his rough charm and swing, to his constant unpredictability.
Bernstein would have liked this new recording of the London Symphony Orchestra playing Nielsen's Second and Third Symphonies under veteran maestro Sir Colin Davis.
This is the composer at his most approachable - the harrowing inhumanities of the Great War had yet to darken his musical voice.
The 1902 Second Symphony was inspired by a series of folksy paintings in a country inn, which give the work its title, The Four Temperaments. The composer may have guffawed at these images at the time, but later he would crystallise them into four emotionally compelling portraits.
Davis brings off the first movement's vision of the choleric with the same vigour that he championed Berlioz with, in the 1960s. The brooding melancholy of the third movement has a Mahlerian intensity that the conductor has not always achieved with the Austrian composer.
It is impossible, too, in the high-spirited, jaunty march of the Finale, not to remember that the conductor is a countryman of Elgar.
You can hear that almost a decade has passed in the 1911 Third Symphony; the tension of the wild, pounding introduction persists in a surging theme that strains to break free from the shackles of D minor.
The work's title, Sinfonia Espansiva, is a mystery - but one senses a certain geniality here, flowing through to a stirring Finale, in which Davis adroitly tints a sturdy D major with all those unexpected touches that so delighted Bernstein.
Soprano Lucy Hall and baritone Marcus Farnsworth blend wordlessly into an Andante pastorale that searches for more than mere countryside contentment.

Stars: 5/5 stars
Verdict: "Veteran conductor makes a powerful case for more Nielsen in our concerts."