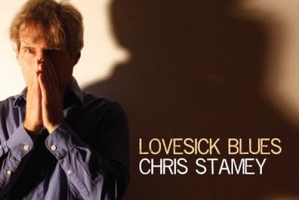 Album cover for Lovesick Blues by Chris Stamey. Photo / Supplied
Given Chris Stamey was one of the main men in The dB's who bridged Beatlesque power-pop and college radio indie-rock (for example, REM) in the 80s, this solo outing might come as a surprise. He mostly dials down the backbeat and repositions himself as a singer-songwriter with one foot in the slightly dull country-folk camp (the funereally paced seven-minute title track) or gets tripped out in a late-60s way (the orchestrated, Indian-influenced and droning Astronomy).
There are still flickers of his pop persona (the acoustic opener Skin, You n Me and XTC) but most of these songs sound much more personal and often quite intimate. That said, there are at least one too many songs about being a musician (the tediously indulgent London elevated only by strings, I Wrote This Song For You); but the most delightful entries (the dreamy Anyway, that repeat-play Astronomy, Wintertime) are the keepers, and though the five minute-plus Room Above the Bookstore might seem endless, he pulls you into his allusive narrative. Much of this refers to styles and influences from before The dB's era (Brian Wilson, in places) and, if not always successful, at its best it suggests a rewarding direction for a man who knows songcraft.
Stars: 3/5
Verdict: Former indie-pop rocker gets personal, string-enhanced and thoughtful
- TimeOut / elsewhere.co.nz