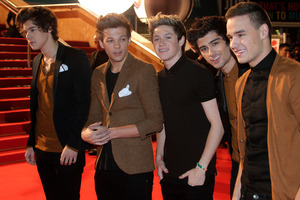 A teenage boy band in Sydney's western suburbs have always dreamed of having the faithful, lovesick fans enjoyed by One Direction. But soon they'll get to share them.
The lucky bandmates that comprise 5 Seconds of Summer have been handpicked by the British sensation to open on their 2013 world tour after One Direction's Louis Tomlinson discovered the unknown pop rockers on YouTube.
Not only will the western Sydney teens play 22 Australian tour dates for One Direction, they will also feature on more than 80 other shows throughout the UK, US, Canada and New Zealand.
Luke Hemmings, 16, Calum Hood, 17, Michael Clifford, 17, and Ashton Irwin, 18, will step onto the stage at London's O2 Arena to kick off the tour next Saturday, playing four shows across the weekend to more than 80,000 fans.
"We discovered 5SOS on YouTube last year and we all knew straight away they were very special.
We're so excited to have them on the road with us and we know our fans are going to love what these lads do," One Direction's Niall Horan said.
The Aussie band relocated to London two months ago to start work on their debut album, set for release later this year. They have also been hanging out a little with their idols.
"Supporting 1D is going to be amazing," drummer Irwin said.
"We still can't believe how far we have come since playing our first show at the Annandale a year ago. We love our fans that have continually supported us and can't thank them enough for getting us to where we are today."
Hemmings, Hood and Clifford met at school and decided to form a band. With their first gig booked at iconic music venue The Annandale in Sydney's inner west, they realised they didn't have a drummer and quickly scouted Irwin through mutual friends.
They played their first show there in December 2011 to 12 people.
5 Seconds of Summer then harnessed social media to build themselves a profile. Within six months of forming they had amassed 50,000 Facebook fans, four million YouTube views and a combined 200,000 Twitter followers.
By August, they sold out two national tours.
* 5 Seconds of Summer will open for One Direction on 22 shows across Australia this September and October.
- AAP