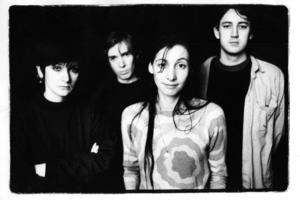 Really? This rickety and scratchy load of fuzz took 21 years to come up with? I'm joking, of course. But if you sat an unassuming, non-My Bloody Valentine-believer down in a chair and played them the great British noise pop shoegaze band's latest album, that's what the newbie would most likely think.
I had a flatmate once who couldn't stand My Bloody Valentine. "Turn that bloody bumblebee shit off," he would plead. Admittedly, he was more into the Eagles than noisy British indie bands but, as it turns out, he had perfectly described the sound MBV conjured up on the challenging and often-dissonant Tremolo EP from 1991 (incidentally, the best song on it also just happened to be called Honey Power).
The thing is, theirs really is the loveliest, most beautifully odd and singular sound. And this third album - and long-awaited follow-up to 1991 classic Loveless - is more than worth the wait.
It's no Loveless, however, or, for that matter, an Isn't Anything, the band's excellent debut from 1988. Because there is nothing even approaching the pure gutsy grunt of the latter album's best song, Feed Me With Your Kiss.
Although the deadened, industrial thud of instrumental Nothing Is comes close (and it's a little unnerving to think what that song would do to your head at a concert) and closing track Wonder 2 is the album's biggest brain-caver (like band leader Kevin Shields has been out at a drum 'n' bass gig and come home and decided to put his MBV spin on what he's just heard). It's brilliantly bonkers stuff.
But mostly, m b v is not about ear-splitting power - the majority of it retains their trademark seductive wooziness, layers of delicious distortion, and an otherworldliness that made Loveless so good. A song like New You is fluffy fuzz funk, as it pumps and lopes along with the hushed and cooing vocals of guitarist Bilinda Butcher sounding sweeter than ever, Is This And Yes is an unnerving mix of funereal and futuristic with its spectral beeps and synthesiser chords, and album highlight, In Another Way, works itself up into a ballistic din, but somehow manages to cast a head-nodding spell. And it's those sorts of conflicting sonic moods working harmoniously together that make My Bloody Valentine one of a kind.
The band - who reformed in 2007 after more than 10 years apart and are also made up of drummer Colm O Ciosoig and bassist Debbie Googe - start a series of concerts in Australia this weekend. Shame they're not following their contemporaries the Stone Roses' lead and calling in here. Best you grab your headphones, plug them in, turn it up, and have your own private My Bloody Valentine concert in your head, then.
Stars: 4/5
Verdict: First album in two decades. Worth the wait
- TimeOut