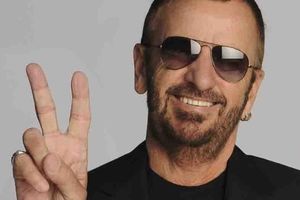 There's more to being a drummer than keeping the beat. Of course that helps, but ideally you need to be interesting and colourful enough to do interviews (because, speaking from experience, there are very few drummers TimeOut agrees to interview) and you also have to be able to write songs. I tell ya, it's not just about sitting up the back and counting the beat.
And because Ringo Starr, arguably the world's best-known drummer, is in town with his "All Starr Band" on Saturday night, this column is a tribute to the sticksmen and women - think Karen Carpenter, Cindy Blackman (aka Mrs Carlos Santana) and, um, Meg White, who was more style over substance but she made an impact, nonetheless - of this world.
Ringo wrote some of the Beatles' songs, like the whimsical Octopus's Garden and sang lead vocals on Yellow Submarine, which obviously set him up nicely for a future career in kids' television as narrator on Thomas the Tank Engine.
He's in the more gentlemanly class of drummer, similar to Rolling Stone Charlie Watts, say, only not as flashy and clever.
Ringo relies on being solid, almost workmanlike, with an added sense of humour and fun. Anyway, Charlie is freakish, the way he conjures up hard-out rock 'n' roll beats while hardly raising a sweat or getting a hair out of place.
Me, I prefer the wild, sweaty animal style of drumming like that of the late John Bonham (Led Zeppelin), Dave Grohl (Nirvana, Queens of the Stone Age, Them Crooked Vultures), and Dave Lombardo (Slayer). Although all three are different animals, with Bonham the pounding-yet-funky drummer, Grohl the flailing battery-powered bunny, and Lombardo the mechanical animal (check out Raining Blood for proof).
In fact, watching a good drummer in action is something to behold, as they wind up, unleash (yes, very much like Animal on The Muppets) and then reel their adrenalin and energy back in to tinkle the cymbals delicately, with elegance and poise. It really is like the biathlon - the Winter Olympics sport that's a mix of cross-country skiing and rifle shooting - of music, where you have to calm down, lower your heart rate and nail that simmering high-hat roll (or whatever the correct drumming language is).
Still, even though I have much respect for the men and women sitting on the stool, I start to glaze over whenever there's a whiff of a drum solo coming up. And you get a sense the majority of the crowd feel that way too - yet they let the dear old drummer have a moment in the spotlight and politely applaud as they go off on some incoherent, free jazz-rock fusion tangent.
I couldn't care less if Bonham came back from the dead to do a drum solo, there is no need for them. But, like I say, much respect.
- TimeOut