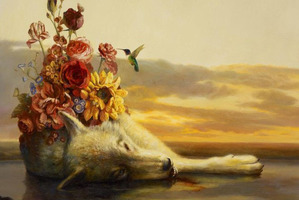 Grunty, spiralling riffs - check. Powerhouse, machinegun drumming - check. Fist-pumping, chest-beating everyman anthems - check. On the face of things, the Joy Formidable could be just like every other Foo Fighters-loving rock act chasing their arena-sized dreams.
But (as their explosive new album, Wolf's Law, proves), they've got several things going that make them stand out from the crowd. For starters, the trio are Welsh - and proud of it (the band's bassist is called Rhydian Dafydd).
Secondly, there's feisty blond frontwoman Ritzy Bryan, who can fire up (she does a great Courtney Love on the frenzied anthem Bats) and mellow out (as she does on the tender ballad Silent Treatment) at will. And though Wolf's Law smooths out some of the rougher edges that made 2011's The Big Roar such an exhilarating experience, it's a bigger, louder and edgier album that comes with several cracking tunes.
It also proves tours opening for the likes of Muse and the Foos have worked wonders: try the ripping anthem Cholla, the soaring theatrics of Forest Serenade, the grunty shapechanger The Leopard and the Lung, or the Tom Morello-apeing guitar breakdown in the middle of Maw Maw Song for proof. The fact that Dave Grohl is a superfan? Well, that's just the icing on the cake.
Stars: 4/5
Verdict: Welsh rockers learn to bark and bite
Buy Wolf's Law by The Joy Formidable here.
- TimeOut