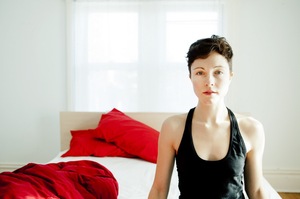 Minneapolis five-piece Polica were founded in 2011 by producer and instrumentalist Ryan Olson and vocalist Channy Leaneagh, and released their debut LP only a year later.
Written and recorded in the wake of Leaneagh's divorce, it's an 11-track collection which ranges in sonic inspiration (R&B, nu-soul and electro-lounge permeate). But it is connected by a highly processed, other-wordly sound palette, a ruminative, introspective, melancholic outlook, and Leaneagh's employment of Auto-Tune as a specific vocal effect.
The drumming throughout is largely inventive and engaging, working in conjunction with some great bass lines, and somehow feeling equally integrated with the various synths.
There are guitars too, but they're mostly kept in the background - though Violent Games has rock leanings worked into its danceable incantation. They hit their stride with tracks like funked-up Dark Star, Form with its vaguely Eastern European folk flavour and a bass line that could've stepped out of Paul Simon's Graceland album, and the dreamy Lay Your Cards Out.
Sometimes the tracks feel a little wandering, but they've got a hazy late-night appeal that feels exotic and continental in an 80s way.
Polica will be appearing at the Laneway festival on Monday.
Stars: 3.5/5
Verdict: Ruminative, electro-flavoured, Auto-Tune-layered debut
Buy a copy of Give You The Ghost here.
- TimeOut