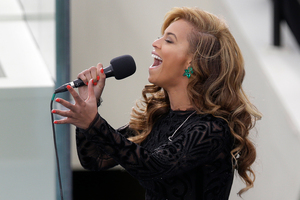 Beyonce lip-synced her performance of the national anthem at US President Barack Obama's second inauguration, reports say.
The pop superstar was lauded for delivering a pitch perfect performance at the inauguration, despite struggling with sound issues.
However, the London Times today revealed she was not singing live.
Kristen DuBois, a spokeswoman for the Marine Corp Band which backed the anthem, told the paper Beyonce decided just before her performance to rely on a pre-recorded backing track.
"We did pre-record it and it was Beyoncé's decision at the last minute to go with the pre-recorded version," she said.
It was standard procedure to record backing tracks for inauguration performances, where cold weather is often a factor, she said.
"We pre-recorded all music as a matter of course and have done since time immemorial," she said. "This is our 54th inauguration... There is no question of there not being any music - it's not because the performer cannot do it."
A representative for Beyonce did not immediately respond to requests for comment.
Kelly Clarkson's representative said she sang live to perform My Country, 'Tis of Thee.
The use of a recording is typical in big events. In 2009, cellist Yo-Yo Ma was questioned about "hand-synching" for Obama's first inauguration. Ma said instruments weren't functioning properly in 19-degree weather.
It wasn't the only controversial performance of the day.
Rapper Lupe Fiasco was removed from the stage at an inauguration party concert after singing a song that included anti-Obama lyrics.
Organisers insisted he was only asked to leave the stage because his performance "wasn't up to scratch".
- Herald Online and AP