Lydia Jenkin talks to Dirty Projectors' frontwoman Amber Coffman about their new album and upcoming tour Downunder.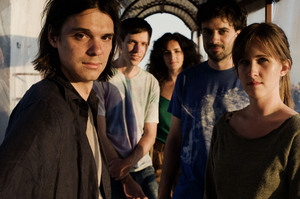 When TimeOut phones Dirty Projectors' guitarist and vocalist Amber Coffman, she's happy to be at home in Brooklyn, having a rare break from touring. The six-piece band, helmed by musical maestro David Longstreth, have been on the road almost non-stop since releasing their sixth album Swing Lo Magellan in July last year, and accompanying EP About to Die in November, presenting their complex art-rock tunes to fans all over the United States, Asia, Europe and South America, before coming to Australia and New Zealand in the next fortnight.
Having built their fan base with decidedly intellectual, yet still palatable concept records like The Getty Address (inspired by the life of Eagle Don Henley) and Rise Above (a tribute to Black Flag's album Damaged, done entirely from memory), along with collaborations with Bjork and David Byrne, it was 2009's engaging Bitte Orca that helped them find international favour. Now, Swing Lo Magellan is being noted as their most melody-oriented album yet.
"I felt like it was a much more personal record and less about all the crazy parts," Coffman muses.
"It's funny, because I feel like I have a wider perspective, just because I've heard all the songs that were written during that period and I just thought the energy was so light-hearted and free and fun, and it was quite explosive."
Fans can rest assured that their wide-ranging influences (from R&B to classical) and trademark complex palette of sweet female vocals entwining with Longstreth, supported by a deeply grooving rhythm section, cut through with scattering guitars, fluttering keys and staccato percussion, is still very much intact, but the songs have a sweeter vulnerability and stronger hooks than ever.
Despite having a certain bias (Coffman is Longstreth's girlfriend) and having worked with Longstreth for nearly a decade, she was very impressed with almost all of the 70 song ideas he originally came up with for the album.
"He would go upstate to the house for a few days, write some ideas, come back, play us a bunch of demos that he'd just record by himself, and our reaction was always just 'wooaaah!' It was very exciting."
Swing Lo was written and recorded in a homemade studio in upstate New York over about 10 months, and Coffman sees the isolation and space that afforded them as contributing to the high quality result.
"We just found a house in the woods up there, which was really remote, so we took all of our gear up there and made a kind of studio. We were there for a really long time, so in the summer it was dreamy, being there. It was beautiful and cool, especially because New York can be so hot in the summer. But then in the winter, it was freezing, many feet of snow, and totally isolated. It was great to be out of the city."
Longstreth's writing is still highly technical, with many weaving layers, so it's lucky he's got Coffman to sing with. Despite having no specific formal training ("I guess my training was probably just like singing to R&B songs, constantly, on repeat, and memorising every note and every word. I'd just always been singing, pretty much since I could talk") she manages the virtuosic phrases and wide-ranging styles with skill.
"Sometimes I find it challenging, but I like that it's challenging; it's fun. I'm very much an ear musician, and I guess I'm pretty fast at learning things and memorising them, but it definitely comes with repetition - and a lot of rehearsals."
Indeed, translating the songs to a live setting requires a lot of work - not just rehearsing, but working out who can be responsible for what sounds.
"Dave wants every part to be done live, and to be done as organically as possible, given the constraints we have with the number of people and instruments. So it can be a challenge figuring it all out - what piece of gear or instrument to use, how to get the right sound at the right volume, but it's fun. It's exciting too, when you work it out.
"The show we'll be playing is a really dense show, and it goes to a lot of different places. We've worked on it for a long time, and we're very proud of it. There's a lot to take in," she promises.
Who: Brooklyn band Dirty Projectors
Where and when: Playing at the Kings Arms on Wednesday January 23
Latest release: Swing Lo Magellan (2012), About to Die EP (2012)
- TimeOut