Situated on a vineyard looking towards Young Nicks Head, the Rhythm and Vines music festival is celebrating its 10-year anniversary this month.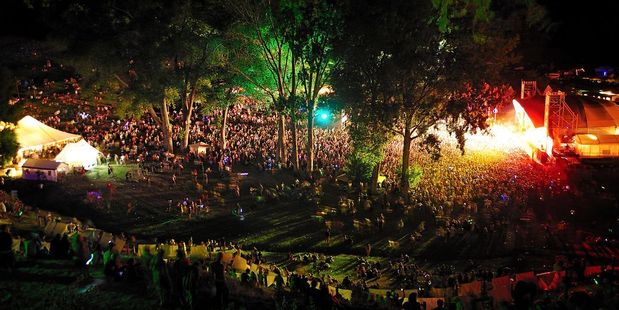 Gisborne Mayor Meng Foon asked when we met at the recently renovated Works Café for brunch, "have you walked across the railway bridge yet?" The bridge connects the waterfront bar area to the main shopping prescient. "Not yet, but I'm told you haven't experienced Gizzy until you walk across the railway bridge. Does it count that I saw a man walk his horse named Jesse to a function last night?" Foon shrugged off the experience like it was no big deal: "that guy is often seen around Gisborne!"
Those quintessential kiwi experiences provide further reason for 30,000 people to make the pilgrimage to Gisborne for the annual music festival Rhythm and Vines.
From one who has been several times, it's obvious this year is destined to be special because the organisers have hit a milestone, the 10-year anniversary.
Co-founder Hamish Pinkham unassumingly believes, "It will be one to remember, the best year yet."
"We have made some big improvements this year. All the stages are new, and are arranged to minimise the bottlenecks. We've added a Red Bull Music Academy stage which is a breeding ground for emerging talent, and cut a few vines to allow increased capacity of up to 8000 for on-site camping."
Earlier in 2012 the Rhythm Group brought Waiohika Estate, which proves their long-term commitment to the region. But what are Pinkham's biggest achievements over the past 10 years?
"The knowledge that if you stick to your vision with determination through the hard times, you can succeed. Winning a New Zealand Tourism Award, being recognised by your industry colleagues and peers, and of course, providing artists a platform on which to perform."
If you are still deliberating whether to attend, Pinkham advises, "December 29 has a band focus with Tame Impala, Kimbra and dance act Knife Party; wicked producer Mark Ronson will headline the 30th with an incredible visual light show. On the 31st Dave Dobbyn will be a mass sing-a-long and then 2013 will be welcomed with the best ever fireworks display we've seen."
Mayor Meng Foon talks of benefits of Rhythm and Vines to the region: "On average people visit Gisborne twice to attend R&V, and some early adopters have since bought houses and settled into the Gisborne lifestyle."
My Gisborne host, Tourism Eastland Marketing Manager Kerry Taggart, offers this advice: "People love coming out east for Rhythm and Vines, the only stress is deciding which beautiful beach to visit and which band you're going to see next!"
The Stingray experience with Dive Tatapouri is exceptional. It's a low-key operation in Tatapouri, a sleepy fishing village. Wade out at low tide with a local guide, feed and touch the stingray while the water glistens, all before breakfast. The more adventurous can try the shark cage diving. On your way back, stop in at Wainui beach, enjoy an ice cream or fish n' chips from the iconic Wainui Store.
There are a plethora of vineyards for tastings or lunch. Head to the Wine Centre for advice or owner Marcus Allan's mystery wine tour. My personal favorites are Millton's vanguard biodynamic vineyard, where the attention to detail can be tasted in the delicious wine, lunch at Bushmere Estate and enjoy tastings at Matawhero Wines. Owner Kirsten provides groups with tasting glasses presented on a wooden frame to enjoy next to the vines and olive trees.
For the adventurous, Rere Springs waterfall is a popular tourist haunt in summer. Best place for directions is the Gisborne i-Site where you can conveniently hire everything from skateboards to wetsuits, boogie boards or stop for a round of mini putt.
Meanwhile up the coast an hour away is relaxed Tolaga Bay, best visited on December 29 for the Kaiaua Beach Horse Races. Be sure to walk the famous pier and enjoy an ice cream or go fishing.
Few tickets remain for Rhythm and Vines. Remember to pack your sunnies and leave your stress at home as you travel out east. R&V will be an epic gathering to celebrate the 10-year milestone.
- nzherald.co.nz