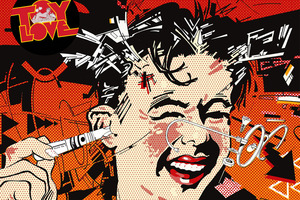 Think of this review as a bookend to the many stories and words written about Toy Love in the past few weeks in light of the punk-pop new wave rabble-rousers winning the New Zealand Herald Legacy Award.
It's fitting really, because as the band would say, it's all about the music. And during their brief reign from January 1979 to September 1980, Chris Knox and co sure came up with a lot of songs - along with some carried over from the Enemy days, of course.
This limited edition double, vinyl-only reissue includes 28 tracks made up of singles, demos and live track, The Second to Last Song Toy Love Ever Wrote, recorded at Auckland's Gluepot the month they split up. Of special note - especially because vinyl geeks love this sort of thing - is the fact the vinyl comes in the Toy Love colours of red and yellow.
The thing with Toy Love is that much of their recorded output was lacking the grunt and energy of their live show. And after checking out YouTube footage of the band in concert back in the day, it's not hard to see why it was so difficult to capture their live sound. They were intense, creative, and dangerous all rolled into one tight unit.
The good news is that this album - remastered for vinyl straight from the original analogue tapes - goes a long way to reinforcing the uniqueness and intensity of the band. So Bride of Frankenstein - the band's third single, recorded during the ill-fated Sydney album sessions - sounds a little lightweight, but its thigh-slapping country punk essence is still as catchy as ever. But wait for the rush you get from the rough and ready, almost Buzzcocks-style punk of Sheep, with its sing-along chorus, "I don't know where I'm going to" and Jane Walker's loopy keyboard offerings; the band's first single, Squeeze, with its melodic mix of post-punk rumbling and sprightly new wave energy, is one of the best Kiwi songs ever.
Elsewhere you can hear the influence some of the noisier Flying Nun bands of the future - Skeptics, Snapper, and even Straitjacket Fits - took from a song like Photographs of Naked Ladies, with its serrated, caustic riffs and tribal drumming. Then there's the gnashing and frantic Lust, the punky dirge of Wanna Die With You, and the pure strumming pop of Don't Ask Me with Knox's whiney holler over the top.
Best, and wildest of all, are two distinctly different tracks near the end of the album. The short, abrasive Pull Down the Shades is still a riot-starter 30 years on, and then comes the sprawling, noisy and volatile psychedelia of Frogs which, 30 seconds in, has an arcing, agitating guitar riff that transports you back to the dangerous days of early 1979. It's classic stuff, so get this record while you still can.
Stars: 4.5/5
Verdict: The way their songs were (almost) meant to be heard
-TimeOut