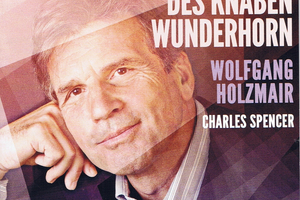 Mahler: Des Knaben Wunderhorn (Onyx, through Ode Records)
5/5 stars
Joseph Calleja: Be My Love (Decca)
4/5 stars
Verdict: "Singers score in subtle Mahler and fulsome Mario Lanza."
Wolfgang Holzmair is a prince among baritones who, from his 1983 recording of Schubert's Die Schone Mullerin, revealed that his forte was in the field of German Lieder. His new CD of Mahler's Des Knaben Wunderhorn is an extraordinary achievement for the 60-year-old singer.
His voice has not lost its lustre in the opening Rheinlegendchen, in which he almost coaxes and caresses the humour out of this ironic little tale; in the next track, for the cutting satire of Revelge, Holzmair summons up the bite and bark of a seasoned cabaretmeister.
Only occasionally, in moments such as the florid turns of Wer hat dies Liedlein erdacht is there even a hint of strain.
This disc offers Mahler's 20 Wunderhorn settings with the composer's own piano accompaniments - the better-known orchestral versions came later.
English pianist Charles Spencer (no relation to the late Princess Diana) takes us to a world in which orchestral finery is forgotten.
Listen to his exquisite tonal gradation in the inevitable chordal journey of Urlicht or his translucent backdrop for Wo die schonen Trompeten blasen, as Holzmair sings one of the most touching of all Mahler's songs.
The name of Ivan Paley in the production credits is significant - the executive producer and artistic director is a singer and pianist himself.
The result is a recording that offers you the presence and intimacy of a Liederabend trois.
Subtlety is not the order of the day with the juicy kitsch of Be My Love, Joseph Calleja's tribute to the late Mario Lanza. The Maltese tenor obliges with a handful of legit arias, including some sob-inducing verismo from Mascagni, but the real guilty pleasures lie elsewhere.
The album virtually bursts upon you with the hokum of Be My Love presented in the aural equivalent of Panavision splendour, concocted by the BBC Concert Orchestra and the New London Singers under Steven Mercurio.
The conductor is also responsible for some of the over-the-top arrangements, setting Calleja one of the greatest challenges of his career, competing with a forest of castanets in Granada. Calleja fans will be relieved to know that the tenor wins.