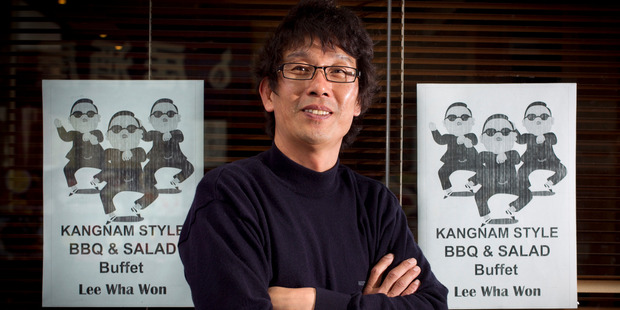 A Korean restaurant in Auckland is going "Gangnam Style" after failing to convince diners it is safe to eat the puffer fish dishes on its menu.
Chowon Puffer, which opened in April serving only puffer fish, will reopen in two weeks as a Korean pop-themed buffet restaurant called "Gangnam Style" - named after the global hit of the same name by South Korean popster Park Jae-Sang.
The video to Gangnam Style, featuring Park - better known as PSY - and his horse-riding dance, yesterday hit nearly 480 million views on YouTube and has been on top of New Zealand's music charts for about three weeks.
Since its July release, PSY has been transformed into South Korea's most popular cultural export and his hit song is the biggest K-pop number globally. Despite being mainly in Korean, the song hit No. 1 on the British charts this month and No. 2 on the United States Billboard's Hot 100 chart.
Business owner James Ahn said he was hoping to ride on Hallyu, or the Korean pop culture wave, that is growing in popularity in New Zealand and turn his restaurant into a hangout for K-pop fans.
Gangnam - sometimes spelled Kangnam - is a wealthy suburb in Seoul and Mr Ahn said the restaurant would give Aucklanders the Korean nightlife experience, including Korean alcoholic drinks such as Hite beer and Soju, a Korean equivalent to Japanese sake.
"In Gangnam we enjoy good food at quite cheap prices - mostly eat all you want - and restaurants there are always noisy and lively," he said.
"There will be a huge screen playing K-pop music, people can sing and dance and our waiters will also be young and funky who may even be serving customers dancing Gangnam Style."
Mr Ahn, vice-president of the Korean Society, said his Hurstmere Rd restaurant also hoped to be a base for visiting K-pop stars.
Korean Education Centre Adviser Lisa Lee believed a K-pop-themed restaurant would be "hugely popular" in Auckland.
"The impact that K-pop has on interest in the Korean culture has been phenomenal, and I think it is only common sense for Korean businesses to be tapping on it."
Since Gangnam Style hit No 1 in New Zealand last month, 45 new Kiwis had signed up for Korean language classes, which were free at her Korean Ministry of Education-backed centre, Ms Lee said.
Learning the lyrics of Gangnam Style and watching the video were among the first things students undertook at the centre.
"Our teachers believe this is the way to inspire and excite students, and make them enjoy a part of our culture," Ms Lee added.
Korean Society president David Hong is in Seoul to finalise details of a K-pop festival that could bring groups such as 2PM, Girls Generation and Kara to Auckland this summer.
Gangnam Style
Singer: Park Jae Sang, better known as PSY.
Video: 479 million YouTube views since July.
Dance: A crazy horse-riding style.
Gangnam: A wealthy district and the most coveted area in Seoul.
Song: About the country's new rich, sexy ladies and the district where they live.
Parodies: Parodied, imitated and referenced in almost every conceivable way.