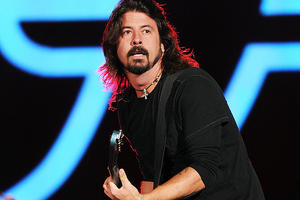 Dave Grohl has confirmed the Foo Fighters are taking a lengthy break away from the spotlight, but denies the rockers will break up.
In a posting on Facebook, Grohl confirmed what he had told crowds at recent shows by saying the stadium-filling act would be going on hiatus.
"Yes ... I was serious," he wrote. "I'm not sure when the Foo Fighters are going to play again. It feels strange to say that, but it's a good thing for all of us to go away for a while."
Despite fan outcry, Grohl said there was no way the Foos were breaking up.
"Never in my wildest dreams did I think Foo Fighters would make it this far. I never thought we COULD make it this far, to be honest. There were times when I didn't think the band would survive. There were times when I wanted to give up. But ... I can't give up this band. And I never will.
Because it's not just a band to me. It's my life. It's my family. It's my world.
"I never want to NOT be in this band. So, sometimes it's good to just ... put it back in the garage for a while ..."
Over the weekend, Grohl led the Foo Fighters into what was a stunning end-of-tour gig at the Global Citizen Festival in New York's Central Park.
The band raced through a hits set before an estimated 60,000 music fans and millions more watching the gig live via streaming video online, and frontman Grohl took a moment to say goodbye after a lengthy world tour.
"Without making a big deal out of it, we don't have any shows after this. This is it, man,'' he said.
"This is the show where we come out and we play as many songs as we can in a short period of time, because, honestly, I don't know when we're gonna do it again and this is the perfect place to do it, right now, tonight.''
His comments are sure to stir up controversy among Foo Fighters fans, who took to Twitter.com in August to voice their disappointment after Grohl announced the band's performance at Britain's Reading Festival would be its last for some time.
The singer responded by stating: "Jeesh (sic)! Relax... I was only talking to England!!"
After their set at the Global Citizen Festival, the Foo Fighters made way for Neil Young & Crazy Horse, who headlined the charity event.
Earlier in the day, the Black Keys, Band of Horses and K'Naan performed, and John Legend made a surprise appearance to sing a stirring rendition of John Lennon's peace anthem Imagine.
However, the music was only part of the event, which marked the culmination of the Global Poverty Project's campaign to end extreme poverty around the world.
Actresses Olivia Wilde and Sophia Bush, singers Katharine McPhee and Selena Gomez and supermodel Karolina Kurkova all introduced scholars and charity leaders, who spoke of the issues facing the third world and how music fans could help.
- WENN with nzherald.co.nz