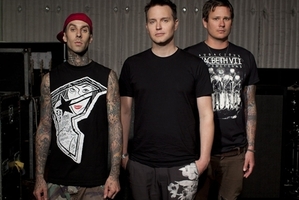 Blink 182 star Travis Barker plans to use the band's forthcoming tour of Australia to overcome his crippling fear of flying.
The American pop-punk band have confirmed shows in February with the most likely destination being at Soundwave festival.
Barker is desperate to get past his fear of flying so that his children will stop worrying about getting on a plane.
The drummer survived a 2008 plane crash in South Carolina that killed two friends, a pilot and his assistant, and left the rocker with burns all over his body.
Barker hasn't been able to contemplate flying ever since, causing all kinds of logistical problems for his reunited bandmates as they plan international tours.
But he insists he won't be a casualty of the past and has plans to overcome his phobia, so he can join Blink 182 on the road in Australia.
"I'm contemplating getting knocked out and getting on a plane to Australia.
"I want to overcome that eventually,'' he told The Red Bulletin magazine.
"When I do, I think it's going to be Qantas. They never had a crash, never had a fatality.
"It's something I want to overcome for me, and my kids are scared to death to fly. I want them to witness me overcome it.''
Howerer there is a chance that Blink 182 will travel to Australia without Barker after he told a fan a replacement drummer would be drafted in his place.
"Mark (Hoppus) and Tom (DeLonge) will be there in Feb of next year but with a full in drummer cause I dont fly. Sorry brotha," Barker tweeted.
- WENN