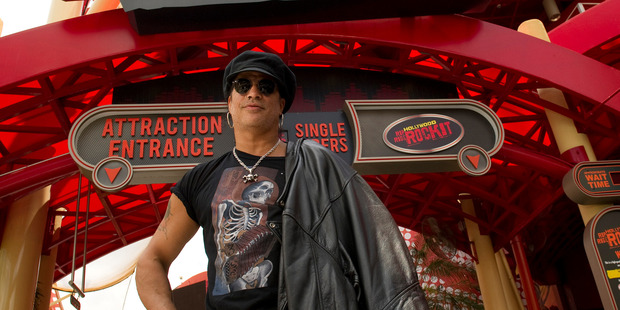 Former Guns N' Roses guitarist Slash and band are playing two arena shows in New Zealand in August.
The tour comes with the release of album Apocalyptic Love, the second of the axeman's solo career, following Slash's troubled post-G N' R band Velvet Revolver.
These days, with his own group, which is officially billed as Slash featuring Myles Kennedy and the Conspirators, the guitarist can enjoy touring in a band that's not dysfunctional.
"It's really liberating. It's so stress-free. Everybody is happy doing what they're doing. There isn't a lot of drama and fussing. It's been a long time coming, I suppose."
He actually started touring with this group two years ago to promote his 2010 solo debut Slash, on which Kennedy joined a parade of more famous guest singers, including Ozzy Osbourne, Fergie and Lemmy Kilmister.
"He's very down-to-earth and a humble individual," says the 46-year-old guitarist. "Definitely not the kind of lead singer I've had a lot of experience with."
Kennedy took over vocal duties when G N' R were recently inducted into the Rock and Roll Hall of Fame after Axl Rose refused to attend the ceremony, which was a reunion for many of the original band.
Kennedy has gained a reputation as the go-to replacement singer, having rehearsed with Led Zeppelin in 2008 before a possible reunion and forming Alter Bridge with members of Creed after that band imploded in 2003.
When Slash called Kennedy in 2009, he needed a vocalist for the two final songs on his debut solo album. Kennedy ended up as the permanent singer in Slash's solo band.
Live, Slash's quartet will feature tunes from his two solo albums as well as material from Guns N' Roses, Velvet Revolver and his earlier solo group, Slash's Snakepit.
"This tour picks up where we left off," says Slash. "We don't have, like, 'a show'. We're a rock band."
The shows are Friday, August 17 at Auckland's Vector Arena and Sunday, August 19 at Christchurch's CBS Arena. Tickets on sale Tuesday, 9am.
Slash
August 17: Vector Arena, Auckland
August 19: CBS Arena, Christchurch
-TimeOut