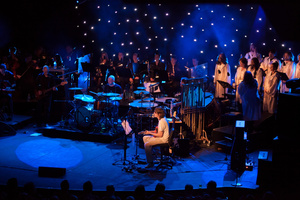 Put it this way, the new album from British gospel space rockers Spiritualized is no Ladies and Gentleman We Are Floating In Space, nor is it their under-rated 1992 debut Lazer Guided Melodies. But it is Spiritualized, that's for sure. Following the hymnal intro Huh, it launches straight into the posturing trance rock maelstrom of Hey Jane, a sprawling nine-minute epic that unleashes like a song with a chip on its shoulder. What makes it so intense is the rough and ready, almost trashy way Spiritualized belt it out while still making it into a sonic mantra rather than a dirty rock 'n' roll mess. It is by far one of band leader Jason Spaceman's (real name Jason Pierce) most rowdy, trance-inducing songs.
Sadly though, this hot-blooded start fades immediately with the dreary ditty Little Girl and the aimless Get What You Deserve, where Pierce ironically sings "I lost all of my direction". Not that it's a bad album, because fans will lap it up. And one of the band's best qualities is how they play off the simple gospel beauty of a track like Too Late against the tense, smouldering relentlessness of Headin' For the Top Now, a song which recalls the space rock heyday of Pierce's former band Spaceman 3.
And the menacing, slow-motion swamp blues collaboration with New Orleans' musician Dr John is a highlight.
It's just that overall it's not the spiritual experience they have delivered in the past.
Stars: 3/5
Verdict: Not quite spiritual
-TimeOut