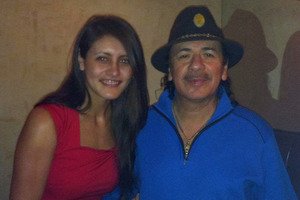 Las Vegas is a long way from Hamilton - but that hasn't stopped a young Kiwi jazz singer from making waves in Sin City.
Sarah Frances Johnston, 21, has hit her stride in Las Vegas, performing at some of the city's most renowned spots, and has signed a contract to sing at Oscar's, a 1006-seat restaurant at the Plaza Hotel.
Johnston, who was born in Hamilton, has performed since she was young. At 11 she had a three-month role in Shortland Street and from there she had parts in high-profile commercials, including a world-wide Toyota campaign, and ads for Farmers and Deka.
When she was 15, her father moved the family to Samoa, where he was born, so they could learn about their heritage and culture.
"When I got there I hooked up with a local band and I thought it was quite fun so I got myself a guitar and started performing seven nights a week at a resort and a bar downtown," Johnston said.
In Samoa she discovered her passion and talent for singing jazz.
"I was singing a lot of Bic Runga and Brooke Fraser with the band because I love their music ... then I started working with an older jazz musician in Samoa and he introduced me to jazz. So I started listening to it and fell in love instantly and I've been singing it ever since."
During one performance she was spotted by Sean Smith, who is now her manager and took her to Las Vegas.
'I've been performing here since 2008 on and off. But I've been performing here seriously for the last eight months."
Johnston now has a growing reputation on the Western seaboard of the United States.
She has regular gigs at leading venues including the Eiffel Tower Restaurant on the Las Vegas Strip and Pebble Beach Resorts in Carmel.
She often returns to New Zealand to visit her parents in Auckland and her grandparents in Tauranga where she has performed a couple of times since hitting the big time in Las Vegas.
The jazz singer has collected some high-profile fans, including one of her idols, Carlos Santana.
The guitar legend heard Johnston perform while dining in Summerlin.
"He basically came up to me after my set and came over and said, 'Can I sit down?' and I said, 'Of course!' I'm such a huge fan and it was such an honour - I couldn't believe it," Johnston said.
"He started talking and gave me some really good advice. He said we both had gifts from God and that you have to harpoon the hearts of your listeners, which really, really helped me to perform a lot better and since then I've been really focused."
Johnston has her sights on a record deal, which she hopes to have by the end of the year.