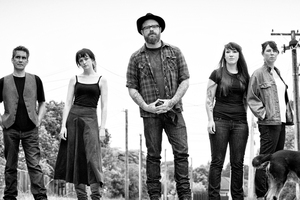 The self-titled 2009 debut and Arrows (2010) by this Christchurch band alerted many to their poetic, political and bare-knuckle country-influenced songs which sit alongside Springsteen's working class balladry, the rambunctious Pogues, whisky-voiced Steve Earle, pub rocking Dr Feelgood and Cold Chisel's open-road truths. Their range is given full rein on this ambitious but exceptional double disc recorded in an abandoned house in quake-damaged Christchurch.
There are fiddle-coloured songs here reflecting that tragedy (Town Like Here, the title track); writers Adam McGrath and Jess Shanks offering subtle takes rather than going for cheap, obvious sentiment. But when it comes to the politics of mining and off-shore drilling they pull no punches ("maybe we'll burn the Beehive baby . . . cut the fat right from their bones, feed it to the poor" on the gutsy Gone). Although you can hear influences, the Eastern are never less than distinctively ours - Flora Knight and Charlotte Ivey adding vocal sweetness or melancholy as required - as they write of tough lives on the margins; drinking to remember and forget; the evils of loggers of native timber and auto-tune singers; of outsider culture and the dignity of those struggling.
Hope and Wire is romantic and rollicking, speaks from the heart - often urban and not some cliched "heartland" - and comes in a pointed cover.
Buy The Eastern's Hope and Wire, here.
Stars: 5/5
Verdict: Public bar poetry and politics from the heart
- TimeOut / elsewhere.co.nz