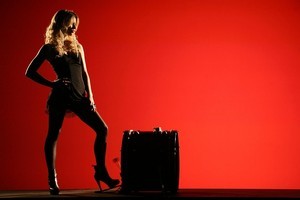 "I wasn't born a beauty queen but I'm okay with that. Maybe radio won't mind if I sing a little flat" Gin jibes on album opener and first single Black Sheep. She does think of herself as a bit of a black sheep, an artist who doesn't fit neatly in any box, and on her sophomore album she's embraced this ("If I have to fall, then it won't be in your line"). Not that Gin has ever cared much what other people think, but in the last couple of years she's matured as a musician, grown in confidence and she's definitely taken control on this album.
There are still catchy hooks aplenty, strong lyrical narratives, and the bountiful arrangements that made her debut Holy Smoke so appealing, but there's a cohesive arc to Gravel & Wine that shows she wrote and recorded these songs with a strong direction in mind. You can hear the influence of a couple of months spent in the USA's deep south. There's the rollicking country and Americana, but she also picks up the deep, swampy, alchemy of the Mississippi, complete with a parade of horns, lots of honky tonk keys and some soulful masculine backing vocals - like the throaty moaning chain-gang that opens Black Sheep, or the low and physical "huh, yah" riff in Poison.
Actually the instrumentation and arrangements on Poison are so massive and visceral that you can imagine a whole set, almost a whole musical, around the song. As a lament it is almost overly dramatic, but it also sounds like she's having enormous fun playing a character which she inhabits throughout the album - a southern woman scorned. Strong, devious, pissed off, it suits her powerful delivery.
The brilliant Man Like That is a highlight, irresistibly danceable with it's crazy voodoo sensibility, growling over-driven bass, pummelling drum rhythms - including some trash can riffs, and a brilliant trumpet flourish or two.
And though she does sly and mad so charmingly, we know Gin's also capable of a stunning ballad, which is exactly what If Only and Saturday Smile are there for. The ghost of Elvis is present in the rolling broken chord piano parts that open If Only, combined with the lush strings and subtle double bass, and she does lovelorn as well as the king as she sings "if only you would roll it all on me".
She does it even better on the bluesy Happy Ever After though, sounding as soulful and broken as we've heard. I believe every word as she figures out the man in the song isn't the happily ever after fairy tale she was hoping for.
But before the latter half of the 11-track album slides into self-pity we get the frantic hoe-down duet Sweet Hell, complete with mariachi trumpets. Dancing boots at the ready please.
The whole album sees her taking the drama and character that made Holy Smoke track Hey Ho so successful, and extending it whole-heartedly with terrific results. Turns out Gin's ageing nicely, just like a good wine.
Stars: 4.5/5
Verdict: Stonking, southern states-infused sophomore triumph
Buy Gravel & Wine here.
-TimeOut