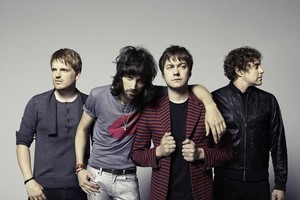 Posturing rockers Kasabian named their fourth album after a dinosaur, maintaining they are the current dinosaurs of the Brit-rock scene. Interestingly, unlike those in Jurassic Park, the real velociraptor was actually a slightly mad creature, about the size of a large dog, with feathers.
Maybe there's something in that, because carrying the mantle of Primal Scream and Oasis, Kasabian often get flagged with the lad-rock label, but as they proved with their last album West Pauper Lunatic Asylum, they're often a little more madcap and interesting than that cliche.
Kasabian are at their swaggering best when they sound like they're having fun, like on Let's Just Roll Like We Used To with its brass flourishes and percussive jangles, or on the title track, all storming electro-guitars, and ridiculous, driving lyrics: "Velociraptor/ He gonna find ya/ He gonna kill ya/ He gonna eat ya." It's not poetic, but it works. La Fee Verte (The Green Fairy) has an appealing Beatlesque swirliness, but isn't quite gleefully fruity enough to get totally lost in. The heavy, techno-inspired Switchblade Smiles is outside their usual box, with thudding bass and eerie, ominous vocals, but proves they still pull off epic stadium electro-rock with some class.
The Velociraptor! paintbox includes tones of 80s electro, eastern mysticism, drugged-up balladry, psychedelic blues and some rave beats, used judiciously and well-produced, but there's a little lack of real commitment on some tracks. As an album it doesn't quite reach the explosiveness or inventiveness of its predecessor - but it's entertaining all the same.
Stars: 3.5/5
Verdict: Let Kasabian entertain you.
- TimeOut