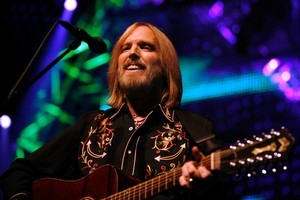 It's started. With no less than 16 months until America goes to the polls, voters have been treated to that enduring staple of every modern presidential election season: a left-leaning musician trying to sue a Republican candidate for using one of their songs on the campaign trail.
At opposing sides of the latest musical showdown are Tom Petty, the blues-rock legend famous for bad haircuts and faded denim, and Michele Bachmann, the gaffe-prone Congresswoman from Minnesota who this week travelled to Iowa to launch a bid for the leadership of the free world.
Lawyers representing Petty have fired a "cease-and-desist" letter to the ultra-conservative Bachmann after learning she walked from the podium at the televised event to a 29-second clip from the opening of his 1977 hit, American Girl.
The musician is understood to be upset the track has been misappropriated without his permission, and concerned that fans may infer he has somehow endorsed a candidate whose firmest political beliefs lie in direct opposition to his own social principles.
Bachmann is a vigorous opponent of gay rights, a lifelong campaigner against abortion, and an evangelical Christian who does not believe in the theory of evolution and argues creationism ought to instead be taught in the nation's schools.
That plays well among the right-leaning demographic of Republican voters who subscribe to the Tea Party movement. Indeed, their star-spangled values are perhaps one reason why the Petty track was chosen.
But her views sit rather less comfortably with Petty, who has a long and very public history of filing lawsuits against Republicans who use his music without permission. In 2000, he forced George W. Bush to stop using Won't Back Down as his campaign theme. "This use has not been approved," his lawyers informed "Dubya". "Any use made by you or your campaign creates, either intentionally or unintentionally, the impression that you and your campaign have been endorsed by Tom Petty, which is not true."
Although copyright law has always been unclear on the use of clips from famous songs at political rallies, the controversy began when Ronald Reagan upset Bruce Springsteen by attempting to use the track Born in the USA as his election campaign theme.
Similar disputes have emerged in every election season since. For obvious reasons, Democratic candidates generally find themselves given a freer pass by recording artists. Many Republican candidates, particularly at the conservative end of the spectrum, find it hard to get any popular musician to endorse them.
- Independent