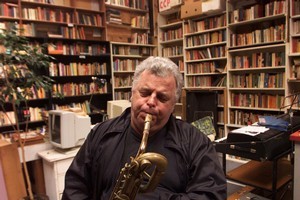 Blues and rock legend Rick Bryant was supposed to be at choir practice last night but was instead spending his first night in prison.
The 63-year-old usually sings with the Jubilation Gospel Choir on Tuesday nights.
But yesterday Bryant was sentenced at the Auckland High Court to two years in prison for selling cannabis and other drugs charges.
When the police went through his inner-city apartment, they found four cake tins of cannabis, sorted depending on its potency.
They also found snap lock bags, scales, $4060 and a CCTV camera over the front door.
Bryant also sang for the Wellington jug and blues band The Windy City Strugglers, led Rick Bryant and the Jive Bombers and performed with the Bruno Lawrence creation Blerta.
The 63 year-old had also recently performed at a benefit concert for Christchurch earthquake victims.
Friend and author of the New Zealand rock history Stranded in Paradise, John Dix, said Bryant will be missed in the industry.
Bryant featured on the cover of the first edition of Mr Dix's book in 1988.
"He's been one of those guys that have been around forever and he'll be back."
He said many in the industry are "flabbergasted" by the sentence.
Mr Dix said Bryant has stayed at his Parua Bay home at the Whangarei Heads but both times left to return to Auckland for Tuesday night choir practice.
"He takes it very seriously."
A large number of supporters turned up to court yesterday to see Bryant sentenced.
He had earlier pleaded guilty to possession of the class-A drug cocaine, possession of ecstasy, cannabis resin, selling cannabis and possession of cannabis for supply.
Police raided his flat in February and found 400g of cannabis, 0.3g of cocaine, four ecstasy tablets in a teacup and cannabis oil in the freezer.
Bryant told police he had been selling cannabis to friends over the last two years.
The crown asked for a starting point of three years in prison.
Crown prosecutor Evan McCaughan said Bryant had "squirreled away" a large amount of money.
Mr McCaughan said Bryant had 14 previous drug convictions and had made no moves to get help for his cannabis use while awaiting sentence.
Bryant's lawyer Paul Wicks told the court that his client used cannabis to deal with chronic pain and was ready to address his cannabis use.
He said Bryant sold the cannabis to "make ends meet and support his own drug use".
He urged Justice Graham Lang to consider home detention.
Justice Lang said he found Bryant was involved in a "reasonably busy" drug dealing operation and was a "long-time user" of cannabis.
"It will take significant steps on your part if you are to disassociate yourself from the drug."
He said Bryant had been jailed in 1975 for one year and six months for possessing cannabis for supply.
Justice Lang said that made the current offending worse.
"You knew you ran the risk of imprisonment if you were caught."
He gave Bryant a discount for his early plea but declined to give him a sentence of home detention.
"There are always dangers when the court sentences an offender to home detention on drugs charges. Home detention can lead to long periods of boredom, and there will always be the temptation to resort to drugs to pass the time in a more pleasurable way," he said.