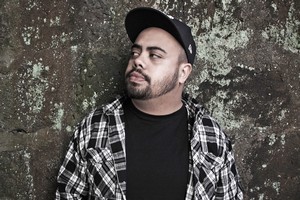 A couple of years ago, PNC's album Bazooka Kid set local hip-hop on a renaissance trip of sorts with its flashy and fun mix of styles, cheeky bravado and rhymes like "Looking for the chicks with Brooke Fraser lips". While there's nothing quite as funny as that gem on third album Man on Wire, he's still a comedian of the highest hip-hop order with tales of good times fuelled by everything from Mount Gay rum and Lion Red to "electric puha" (yeeha) and the legacy of Jimi Hendrix.
And right from the escalating synth and beat clatter of the intro, where PNC lets rip about everything from "whack MC vaccines" to "coaching and toasting" himself, he once again comes out firing with his cocky and tough attack.
Overall though, Man on Wire takes a predominantly darker and deeper emotional turn while still pushing all the right innovation buttons.
For example Murderer features the inspired merging of one of reggae's greatest catch-cries with Fat Freddy's Drop's finest riff (namely the haunting stabs of keyboard from Ernie).
Then there's the collaboration with rowdy retro rockers the Checks on Let Your Lover Know, where they conjure up a sort of weird hip-hop-soul-rock whimsy to create a sound all of its own (something hip-hop struggles to do these days).
That's not to say with this seemingly more serious approach that PNC - real name Sam Hansen, originally from Palmerston North - gives up on the good-time vibes. After all, he's made a name for himself with music that's equally at home in the underground as it is on the charts (hence the balancing act reference of the album title).
So the sleek yet sleazy Champagne Gang slopes along with a sluggish style, then it's into the partying P-Funk jaunt That Kinda Guy, which is like Parliament, Chic and Snoop Dogg rolled into one that might not sound like anything new but it's a head-nodding arse-shaking groove, and the banging mid-album danceathon of She Got It and Be With You gives way to the introspective musings of Slow Motion (featuring a couple of the Home Brew crew) and the autobiographical I Want It All.
But in contrast to the directness of tunes like Tonight and Take Me Home off Bazooka Kid, Man on Wire is more of a, well, not to sound too touchy-feely about it, but it's more of a journey, meaning it takes a little longer to absorb. But ride with it. It's a good trip.
Stars: 4/5
Verdict: A mighty balancing act of styles and sentiment
- TimeOut