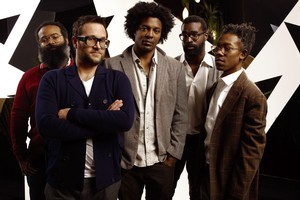 These New York art rock oddballs have quite a pedigree to uphold following three of the most twisted, yet captivating, albums of the past decade - Desperate Youth, Bloodthirsty Babes (2004), Return to Cookie Mountain (2006) and Dear Science from 2008. In short however, Nine Types of Light doesn't quite have the allure and fantastical power of these earlier records.
Following Dear Science the band took a year-long hiatus during which time members went off on their own musical journeys, most notably David Sitek (who also produced Anywhere I Lay My Head for actress Scarlett Johansson in 2008) who released his almost mainstream Maximum Balloon album last year, and Kyp Malone who foisted his difficult and fractious Rain Machine project upon us.
On Nine Types of Light it seems more of Sitek's musical sentiment than Malone's darker sensibility has taken hold because it's the band's most inviting and approachable work to date.
The smouldering oddness and whimsy of TVOTR is still present, but it's watered down. The first three songs are beautiful yet blah (apart from the brassy squalls at the end of opener Second Song, which has hints of U2's The Fly about it).
It picks up with the swinging rowdiness of No Future Shock (with more wailing brass), but falls back into a slumber (albeit another beautiful one) with long and lingering ebbs of ambience on Killer Crane, and then loping anthem and first single Will Do proves a poignant and strong centrepiece.
But unlike previous albums there is no Wolf Like Me or Golden Age to propel it along and take it to that next lofty level. The closest they get is New Cannonball Blues, a soulful slow-motion slugger, and last track Caffeinated Consciousness, which was released last month as a free download, but it sounds too much like INXS' Guns in the Sky to make it something really special.
Another stomper that nearly sets the album off is Repetition, but it is ridiculously straightforward in its punky arty rock attack - and that's something you don't want, or expect from TV on the Radio.
Stars: 3/5
Verdict: Their previous albums prove a hard act to follow
-TimeOut