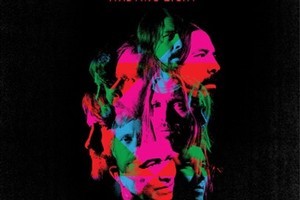 Somehow Dave Grohl's second famous band went from his post-Nirvana solo outing to stadium giants. And there - since the breakthrough hits of second and third albums The Colour and the Shape and There Is Nothing Left to Lose - they've pretty much stayed.
Their albums have becoming increasingly overstuffed while Grohl took his indefatigable energy and talents off into many other acts and guest appearances.
So by Foos' album number seven, what's changed? Well it's now 20 years since Nirvana's Nevermind, the band's second but Grohl's first with the band. The producer of that watershed record, Butch Vig, is on this too.
So is returning guitarist Pat Smear, the American punk veteran who was also a sideman to Nirvana in the later days. And they've apparently recorded this taut 11-song set in Grohl's garage on analogue tape (a bit of which comes included in the package).
So a back-to-basics creative rebirth? A look back in anger at how Grohl's former band ended? An attempt to get back in touch with the music which first flipped Grohl's wig? Let's see ... tick, tick and tick.
All of which makes Wasting Light the best Foo Fighters album since the first two (I've always rated the self-titled Grohl-alone debut as the best simply because of how surprisingly good it was).
Sure, it still sounds like a band with a three-guitar frontline whose natural habitat are rock enormo-domes. But the energy, the punch and the heart of this set sure stops the Foo Fighters from becoming the post-grunge Bon Jovi.
It helps that Grohl sounds like he's at the top of his songwriting game here, his skills for riveting, towering, catharthic, melodic choruses to big-riff verses evident throughout.
That's right from the shuddering opener of Bridge Burning to the good-vibes grand finale of Walk with its uplifting "I never want to die" refrain. It's a positive coda, especially coming after I Should Have Known, an affecting slow-fused explosion of a song featuring old Nirvana bandmate Krist Novoselic and sounding like Grohl is addressing the late Kurt Cobain ("I can not forgive you yet").
And there's more mortality being contemplated on These Days, which starts off as a morbid, pretty ballad before turning life-affirming with its resounding wall-of-fuzz guitars.
Elsewhere, though, it's just thrilling pop-infused loud rock music.
Like when Grohl ropes in Bob Mould (the former frontman of Husker Du and Sugar who the Foos have often echoed) to trade lines on Dear Rosemary. Or when they're doing quiet-quiet-loud things to Arlandria which sounds like a cousin of the Pixies' Velouria. Or sounding like the perfect blend of Weezer and Motorhead on Back & Forth. Or doing goofy spiky New Wave things on A Matter of Time.
Yes, hardcore/metal-Dave is in there too. Especially on Miss The Misery and the hydraulic sprint of White Limo. But it's song-Dave that wins this one and makes Wasting Light such a treat.
Stars: 5/5
Verdict: Grohl's best in a decade
-TimeOut