Rating: 4/5
Verdict: Fraser stretches out on ambitious third outing.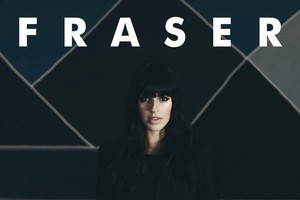 Just as 2006's Albertine was a mature move from her sweetly naive 2003 debut, Fraser's third album is another leap.
Actually it represents a couple. Fraser produces herself this time on an album which starts with the feel-good sing-along stomp of opener Something In The Water (suggesting her much-stated affection for London folkies Mumford & Sons is having an effect) and ends, 10 tracks later, on a string-laden ballad quoting the Gospel according to Matthew ("I know the last shall be first") as the hook to a lyric that is a prolonged statement of faith in a troubled world.
Along the sonically varied way, a few lesser deities make their presences felt too. Coachella, with its reference to the annual Californian music festival, would seem to take its cue from Joni Mitchell's own anthem of a few generations ago Woodstock.
While Jack Kerouac might reference the Beat writer and his On The Road, albeit briefly, its skipping Afro-guitars suggest Paul Simon and its breezy vocal comes with a tinge of the Mitchells. And up the serious end of the record, the weighty atmospherics and dustbowl imagery of Crows & Locusts veers close to Steinbeck-via-Springsteen territory.
Fraser's writing is acute, too, on the bittersweet character study of Betty with her "birthmark in the shape of Canada" (wow, including the Northwest Territories too? I'd get that looked at), song offers sweetly chiming pop-rock, as does the slow-fused Ice on Her Lashes.
The duet Who Are We Fooling co-written with Aqualung (luckily not a Jethro Tull tribute band but the stage name of TV-friendly English songwriter Matt Hales) initially suggests something akin to Snow Patrol or Damien Rice's boy-girl double-ups.
But it runs too close to You Don't Bring Me Flowers (ask a grown-up) in its its highwire vocal double act.
It's sure going to pluck heartstrings over some closing credits one day, but it's one of a few points (the swaying Irish tune of Here's to You is another) of distraction where this beguiling album turns incohesive.
Still, the best bits of Flags are highly salute-able.
- TimeOut