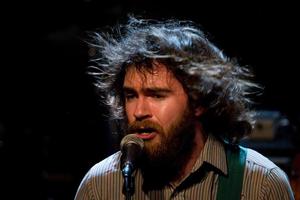 Liam Finn is a young man with his head in the clouds. Even the title of his new EP, Champagne in Seashells, is pure flight of fancy - it came to him while daydreaming on an aeroplane.
"It was quite a disturbing daydream," Finn says. "The air hostess was serving champagne in seashells to all the passengers, and when they got to me they didn't offer me any.
"Maybe it's something lingering from my childhood. You'd be on a plane and everyone would be getting the champagne, but you're not quite old enough looking for them to even to pretend to ask you."
The bushy-bearded 25-year-old would have no such problems these days.
In the two years since his debut album I'll Be Lightning hit the shelves, Finn has surely clocked up enough air miles for a lifetime of complimentary bubbles.
The son of Crowded House frontman Neil Finn, he has toured almost non-stop, taking his energetic live performances to venues and festivals across Europe, Australia and the States.
Finn says his new songs channel the strains of endless touring, which comes to the fore in the homesick ruminations of lead single Long Way To Go.
"It's a lot to do with the last few years of travelling around constantly and not really living anywhere, not really having any kind of home or any kind of base. It's never-ending, it seems."
Back in Auckland for the first time "in ages", Finn recorded Champagne in Seashells at Roundhead Studios over three weeks in April.
It was the first time his live collaborator and childhood friend Eliza-Jane Barnes, daughter of Australian rocker Jimmy Barnes, joined him in the studio.
"EJ turned up about three weeks before we had to head off on another tour in Europe, so we had a deadline. There's nothing quite like a deadline to make you do something."
Despite the tight schedule, the pair had plenty of time to experiment. Long Way To Go is easily the most danceable track Finn has recorded to date, while Captain Cat Is Crying is a nine-minute psychedelic soundscape replete with lines from the Dylan Thomas poem Under Milk Wood.
Bringing it all together is the hard-hitting production of Tchad Blake, who has previously worked with Finn's heroes Tom Waits and Pearl Jam.
"Tchad has an amazing amount of experience and wisdom when it comes to making things just jump out of the stereo," Finn says.
Despite the fresh sound, some record companies have shied away from including Finn's appropriation of Dylan Thomas on the EP.
"They all freaked out about the copyright issues. It's a shame, because it's a weird, long sort of experimental track."
The song will still see the light of day, though.
"I'm possibly going to get sued, but I'm going to put it on the vinyl release. I've got a little vinyl label and I'm going to be brave enough to put it on that."
Finn is less bold about his new recording project with fellow indie darlings Connan Mockasin and Lawrence Arabia (James Milne). The three musicians have been working together for a month, but they still haven't settled on a name.
At the moment it's tentatively called Having A Baby, after a song they recorded earlier this year.
"We're still dubious as to whether Having a Baby is a good name for a band. We actually also refer to it as Barb. It's sort of like an entity, like this weird middle-aged woman called Barb."
The trio had discussed making a record together for some time, but none of them knew what would happen.
"We just booked the studio for a month, which is quite daunting in a way. It was just a complete risk and an unknown. We didn't have any songs or anything written."
Recording in Roundhead Studios, they slipped into sounding like a band pretty quickly.
"I think we're using this band to get out all these little subtleties that we probably haven't put in our own music for a while, like grunge music and funk. A lot of it's quite danceable. I'm not sure what's happening to us - we're all white but we're all trying to be black and make funky soul music.
"It's a strange amalgamation of influences. It's definitely going to be quite surprising I think to anyone who might imagine what the three of our styles might create."
It's the first time Finn has taken a band into the studio since Betchadupa, the group he formed with high-school friends in Auckland before heading off for a stint in London.
"I was missing the camaraderie that is being in a band and the fun you have with a few more people, but also the spontaneous things that happen when there's a few different musical minds.
"I really admire Connan and James and their songwriting so I think everyone was just very excited to see what would happen. I think that's a good recipe for a good record."
The band will be taking to the road for four New Zealand shows this week, playing on each other's songs and debuting some of their new material.
"It's going to be complete mayhem. We've only got two days to rehearse after we finish recording."
And then Finn is back off overseas. Following a string of shows in the US with Wilco, he'll be opening for legendary Seattle grungers Pearl Jam on their Australasian tour.
Some might find such company daunting, but not Finn - he has already played the coveted All Tomorrow's Parties and SXSW festivals and opened for Pearl Jam frontman Eddie Vedder.
Finn isn't worried about matching Pearl Jam's raw power, either. Accompanied by Barnes on-stage, the multi-instrumentalist becomes his own live band, setting up guitar and drum loops and giving it his all.
"I did at one point think about having a band, but I still believe that this way of performing is quite unique to what anyone else is doing in the world. There might be a few people who don't get it, but half the reason I do it really is to test people.
"The shows are about 30 times bigger than anything I would normally do, so it's definitely quite exciting."
All up, Liam Finn has almost 40 more shows to play by the end of the year. Not that he's complaining, though. "I wouldn't want to be doing anything else."
TOUR DATES
August 26 Dunedin - Main Common Room
August 27 Christchurch - The Bedford
August 28 Wellington - The Opera House
August 29 Auckland - The Powerstation
- NZPA