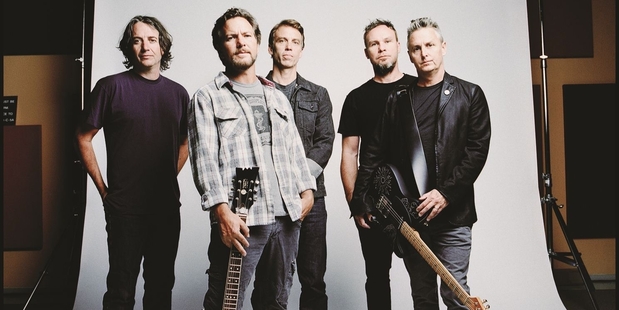 Comfy couches, green tea brewing in the kitchen and a noticeboard full of family photos on the wall. Even without seeing it, you can tell exactly what kind of studio vibe Pearl Jam created for their 10th album. Snug, warm, well-worn, lived in - the truth is, you know exactly how Lightning Bolt is going to sound before you've pressed play.
These "dad rockers"- their words - have quietly graduated from grunge poster boys into one of America's best rock acts, and in the process they've become as dependable as your favourite pair of corduroys.
Not that there's anything wrong with familiarity. "I found my place," growls Eddie Vedder with that now-iconic angry-dog- with-a-bone howl of his on the excellently feisty Getaway. It's a celebratory way to open Lightning Bolt that proves the Seattle grunge survivors may be ticking off boxes but they're doing it with the rugged style and sophisticated vigour that comes from 20 years of experience rocking stadium crowds.
Pleasingly, the first half of the follow-up to 2009's Backspacer has plenty to recommend fans who like those angsty anthems Pearl Jam are known for. First single, Mind Your Manners, is a Spin the Black Circle-style punky workout as Vedder rails against religion, My Father's Son rumbles and spits gloriously for three minutes, while the standout title track adds spacey synths and jagged riffs to Vedder's tortured screams.
If you yell for just one song from Lightning Bolt to be played during Pearl Jam's headlining slot at next year's Big Day Out, make it that one.
But the best example of Pearl Jam's growing maturity is their choice of second single. Unlike the mid-tempo rockers of old, they've picked the stunning six-minute slow song Sirens - a wistful, widescreen epic that includes gloomy piano lines, introspective lyrics about death and a shaky falsetto from Vedder.
It's so beautifully tender - "It's a fragile thing, this life we lead," coos the obviously emotional front man - it will catch you off guard, and could be the most affecting thing they've written since Better Man.
Slower songs tend to bog down the second half of the album - especially the awkward country shenanigans of Let the Records Play and the meandering Vedder-led ballad Sleeping By Myself.
But there's a higher standard of songwriting here than on previous albums - forgettable moments are few, and the slow building tension of Swallowed Whole and the darkened atmospherics of Pendulum showcase a growing respect and deeper understanding of their craft.
It seems middle age and maturity suits Pearl Jam just fine. At this point, they couldn't release a bad album if they tried.
Stars: 4/5
Verdict: Plenty of life in the old dogs yet