Rating:
4/5
Verdict: Best, and brightest album yet from surfie singer songwriter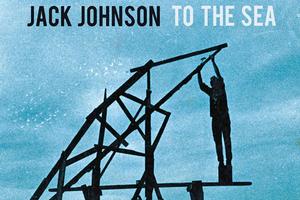 By Jack Johnson's standards his fifth album begins wildly. The catchy intro to opening song and first single You And Your Heart is a slightly dissonant, almost raw, guitar strum. It's a welcome diversion from the usually laid-back guitar tunes he's made his name on since the release of debut album Brushfire Fairytales in 2001.
But it doesn't take long for him to whip the song into something breezier and lighter with his mild-mannered and cruisy lilt. Which is not a bad thing, because it's what Johnson does best and the very reason why To The Sea debuted at No 1 around the world and on the New Zealand charts.
Recorded over three weeks at Johnson's two solar-powered studios, The Mango Tree in Hawaii and the Solar Powered Plastic Plant in Los Angeles, the album is dedicated to his late father Jeff (who can be seen on the album cover).
He died in 2009 so while the album is sentimental - with the album title a reference to "a father leading his son to try to understand himself" - it's never sad or mournful.
Refreshingly, the album finds the Hawaiian singer-songwriter-surfer in a more adventurous mood than ever and compared to flat and dull last album, Sleep Through the Static, there's a lively and often smiley mood to it. Title track, To The Sea, starts off with a cheery piano-driven plod, before freaking out with bawling distortion - yes, you heard right, a Jack Johnson song that breaks out into guitar wails. Elsewhere he nails the gentle acoustic refrain of No Good With Faces with the addition of a lovely floating melodica; From the Clouds takes off on a moochy, ska-like jaunt; on At Or With Me there's a good time, bluesy, deck-party feel; and The Upsetter, while not a nod to nutty dub and reggae producer Lee Scratch Perry, still has some similarly psychedelic tendencies during a mid-song excursion.
Yes, sometimes To the Sea is a touch ineffectual and twee (like the soppy strings-laced Pictures of People Taking Pictures), but overall it's his best album yet.