Vol 1: Township Sounds from the Golden Age of Mbaqanga 4/5
Vol 2: Soultown, R&B, Funk, & Psych Sounds from the Townships 1969-1976 5/5
Vol 3: Giants, Ministers and Makers: Jazz in South Africa 1963-1984 4/5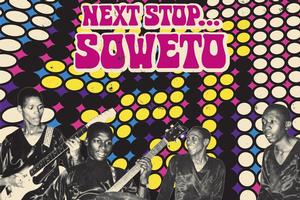 The music and musicians on Next Stop ... Soweto may have been stifled and censored by South Africa's apartheid regime but there's little of a sense of oppression on these celebratory and rebellious tunes.
The three volumes together are a collection of underground South African music, predominantly from the 1960s and 70s - so there's no Ladysmith Black Mambazo, Johnny Clegg, or Freshly Ground, the band who play this year's official World Cup soccer anthem.
Released by Strut Records - a label based in Germany that in recent years has put out compilations of rare sounds from Nigeria, Ethiopia, and Brazil, among many other places - Next Stop ... Soweto was put together over several years by record collecting obsessive Duncan Brooker and historian Francis Gooding.
First up, Volume 1 takes in the lively and often delightfully sunny "township jive" sound - known as mbaqanga - which combines traditional Zulu folk music, the street sound of kwela, distinctly African harmonies, and Western instruments including guitar, drums and flute.
The sound is embodied best by the brassy squawks and clean, break-neck strumming of songs like Zed Nkabinde's Inkonjane Jive, and Mahlathini and the Mahotella Queens' two simmering offerings Umkhovu and Zwe Kumusha.
Both acts, especially Mahlathini who pioneered a groaning vocal style and was known as "the lion of Soweto", were among the early stars of mbaqanga throughout the 60s.
These songs are played in the most lo-fi way, but the vocal harmonies and choral chants are rousing, and the effortlessly tight playing is thrilling.
The golden age of mbaqanga acts as a primer for Volume 2 when the party really starts to kick in - and the Mahotella Queens star once again with their creeping funk-infused Wozani Mahipi.
But it's the trippy organ grooves of the Heroes, the cosmic jazz slop of the Grasshopper's I Am There, and the head-nodding soul jazz of the Klooks, on the anthem Nkuli's Shuffle, that best sums up the sound these bands came up with when the influence of everything from soul and funk, to disco and psychedelia made its way to South Africa.
Not that it's a raving knees-up because Volume 2 can also be a swirling psychedelic experience - here's when you should think about heading to the chill out room - with Bazali Bam's meandering and deliciously repetitive mantra Bazali Bam, the organ wah-wah of Electric Six's Lovey-Wami, and then Gibson Kente's laidback freakout, Saduva, to finish off with.
With songs like this there must've been some good times in the townships come nightfall.
The final volume (which will be released in July) unearths hidden jazz gems from South Africa - and because it covers more than 20 years (from 1963 to 1984), the scope and styles vary considerably.
There are the inspired blend of sparse tribal beats with stabbing and fluttering flute on opener Sibathathu by Malombo Jazz Makers; the incessant, lip-pursing playing of Dedication (which at 10 minutes long is demanding stuff); and then, best of all, Dennis Mpale's Afro-samba-jazz on Orlando and the brassy arse-shaking jazz-funk of Spirits Rejoice on Joy.
While there's a lot of music on these albums - 82 tracks all up - and it encompasses many different styles, every song has its own sense of unbridled joy and defiance.
Get your World Cup party started with this soundtrack of long lost South African songs because Next Stop ... Soweto is a winner.