Rating:
4/5
Verdict: New age rock your mum will like.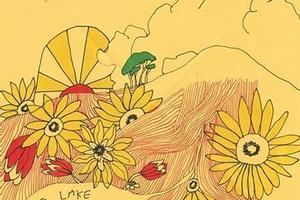 The hand-drawn imagery is on Woods' fifth album is spot on. It's a sunny, meandering, little album that is so charming it almost makes you feel like skipping your way to the kettle or wherever it is that you are heading.
Los Angeles-based duo Jeremy Earl and Jarvis Taveniere fit into all those very "now" categories of lo-fi and psych-rock. Wait, don't cringe. Woods are as polished as anything lo-fi can be, and as peaceful as is possible of psych-rock.
At Echo Lake still sounds like a home-made cassette tape recording - that is reinforced by the cover's hand-scrawled writing and the fact the song list refers to an A-side and B-side.
In fact many of the electronic bleeps do come from home-made contraptions. Surprisingly, when combined with Earl's spooky folkish vocals, it's a pleasant collection. The closest it gets to being warped is just before the "tape flips" in From the Horn but that bruised track is quickly met by bird song in Death Rattles.
The Woods boys are young oddball rockstars but you could happily take them to meet mum, and she could probably even learn to sing along to the chirpy choruses of openers Blood Dries Up Darker and Pick Up.
Yes, they have plenty of pent-up emotions, and like to get a bit weird, but they don't seem too pretentious about what they are doing.