Rating:
4/5
Verdict: Nash lashes out.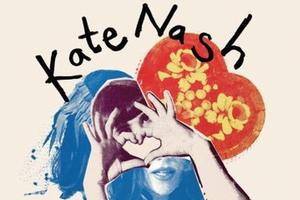 It starts very distinctively Kate Nash: all pretty piano, stirring strings, claps, and her voice - sweet as pain au chocolate, bold as a navy stripe - introducing the girls rule boys drool theme of the album. Then come the galloping drums, chimes, and her melodic, elaborate stories.
Before she can be labelled as gamine or folkish, I Just Love You More sees her dropping all poise and channelling her anger towards a specific member of the opposite sex through wounded yelps. Mansion Song is a foul-mouthed piece of poetry intended to stab someone where it hurts.
On this, her second long-player, Nash appears to give a lot more of herself away than she has on her previous recordings - and not just that barbecue food is good and she reads both Glamour and the Guardian.
She gets nervous, jealous, furious. She goes crazy. She has odd obsessions, like counting laps when she swims to relax. She hurts, then plots revenge.
The varied, daring tracks combine remnants of some of the coolest lady singers around, like the naughty but nice sing-song prose of Lily Allen, the bellow of Florence and the Machine and the wail of Karen O but mostly, it's an honest diary of life as Kate Nash, one of the trendiest lasses about town. Parts of it may hurt your ears, but probably not as much as the subject matter hurts to talk about.