Rating:
4/5
Verdict: Britrock's Modfather's 25th album as good as anything he's done on the past 24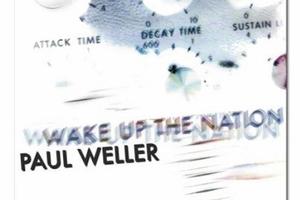 Wake Up the Nation arrives in the wake of Weller's great, if grandly indulgent, 2008 album 22 Dreams, a record which pulled him out of a solo career funk (of the non-musical kind).
It reminded that of the many Class of '78 Britrock senior statesmen, the former Jam frontman and Style Councillor still had the fire of his first band and the adventurous musicality of his second.
And so it is here on Wake Up The Nation.
As its name suggests, it's an album lamenting the Britain that he has long pondered, his working class, angry young man perspective thankfully yet to give way to a grumpy old git singing about how it wasn't like this in his day.
But it's also an album of mad musical swerves - from Bowie art-rock to Curtis Mayfield soul to Righteous Brothers orchestral pop to windmill-guitar R&B - and sometimes in the course of one song.
Add in some avant-garde electronic touches from producer Simon Dine and My Bloody Valentine's Kevin Shields (the biggest stand-out on a guest player list which includes old Jam mate Bruce Foxton, former ELO/Move drummer Bev Bevan and the Woking Gay Community Choir) and this becomes an album that is as initially perplexing as its predecessor.
And one which sometimes hangs on for dear life through those stylistic swerves and epic arrangements like centrepiece Trees, which recalls The Who in rock opera mode, with its song sung from the perspective by an elderly couple living out their last days, reflecting o their life, and waking up the rest of the nursing home while they're doing it.
But as mad as it gets - and the Ziggy space-rock of Andromeda recalls Flight of the Conchords' Bowie's in Space only with added sincerity - Wake Up the Nation emerges as brilliant as it is barmy.
Among the maddest is 7&3 is the Strikers Name, which comes drenched in Shield's feedback squalls, while Grasp & Still Connect starts off as a sunny Beatlesque strumalong before some very dark clouds gather around its ending.
Elsewhere, it's not hard to draw comparisons between the brassy soul of Aim High and the Council's 80s funkier moments, while the guitar crunch behind Find the Torch, Burn the Plans and the closing Two Fat Ladies should shut up anyone in the front rows still wanting him to play something off Sound Effects because it was their favourite Jam record, all those years ago.
It's not quite the cohesive psychedelic suite of 22 Dreams, but its 16 tracks - including some electronica interludes from Dine - show Weller, now in his early 50s, is still capable of both challenging long-time followers and reminding them why they tuned in in the first place.
It would seem Weller's late-career upswing continues.
-Russell Baillie