Rating:
3/5
Verdict: Courtney Love back with band and still searching for redemption.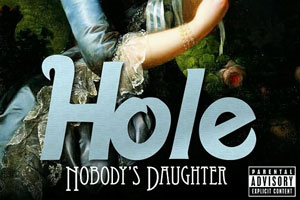 After the mediocre solo outing of 2004's American Sweetheart, Courtney Love is back with her band Hole for their fourth album - and first in more than a decade. However, really the only thing making the band Hole is Love, because it is an entirely new line-up which is missing key players such as bassist Melissa Auf der Maur and co-founder and guitarist Eric Erlandson. Still, you have to give it to Love, Nobody's Daughter does have more of an unhinged Hole bent than her solo album did.
It has nowhere near the seething venom of Pretty on the Inside, the 1991 debut when she sang about teenage whores rather than "skinny little bitches" as she does here. Nor does it have the delicious melodic dirge of Hole's best albums, Live Through This and Celebrity Skin. But Nobody's Daughter stands up as a solid rock'n'roll record - albeit in the tortured, some might say, self-piteous vein Love has mined over the course of her sporadic music career.
The closest she comes to the lovely rock lilt of Malibu is on Pacific Coast Highway, only her voice is a little more haggard these days.
The album convulses and twists between gentler redemption songs (Letter To God) and despairing raw ballads (Someone Else's Bed), the throat shredding of Dirty Little Bitch and jaunty rockers like Samantha (written with pop songwriting guru Linda Perry) and Loser Dust (co-written with Smashing Pumpkin Billy Corgan).
Which makes Nobody's Daughter not too bad for someone who, let's face it, doesn't practise much.