Rating: ****
Verdict: "Russian diva in the passionate songs of her homeland."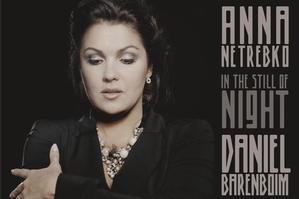 Slip a "the" into the title of Anna Netrebko and Daniel Barenboim's new recital and you might think the two musicians are dispensing Cole Porter musical cocktails. In the Still of Night is more for the vodka than the martini set. Night and Day and My Heart Belongs to Daddy are not on the bill of fare, but instead we are served up "romances" by Rimsky-Korsakov and Tchaikovsky, songs that would have had sophisticates sighing in the salons of pre-Revolution Moscow and St Petersburg.
This relatively unexplored repertoire, setting Tolstoy, Pushkin and other mainly Russian poets, is delivered live to a Salzburg Festival audience. Home territory for Netrebko you may be thinking but, from the very first Rimsky-Korsakov song, a wistful evocation of the dreamworld of poet Apollon Maykov, the soprano's voice and vocal personality does sit rather heavily on the fragile material.
By the time Spring arrives on the fourth track (Rimsky-Korsakov's The Lark Sings Louder) the singer is more comfortable and relaxes into Pushkin's wistfully nostalgic vision of the hills of Georgia.
Netrebko seems temperamentally more attuned to the often passionate Tchaikovsky songs she has chosen. His early setting of Heine's Warum sind denn die Rosen so blass has a nice line in restrained fervour, the singer and pianist making much of the intimate play between their lines.
When the mood turns gloomier in Was I Not a Blade of Grass?, the two musicians catch all the brooding intensity. Netrebko has ventured in lighter territory before, even if Il Bacio on her 2008 Souvenirs album was in dire need of some Italianate brio. On the new album, Tchaikovsky's Serenade, based on a charming poem by that bisexual Romanov, Grand Duke Konstantin, needs more of the coquette in its singing, as hinted at in Barenboim's skittish accompaniment.
In the Still of Night catches what was obviously a special night in the concert hall. The occasional music shuffle and the passing cough or two are to be expected, although untidy chord releasing from Barenboim is a definite irritant, as is the rather blowsy, overpowered encore of Strauss' Caecilie.
- William Dart