Rating:
5/5
Verdict: Pop and roll that you probably won't sing along to.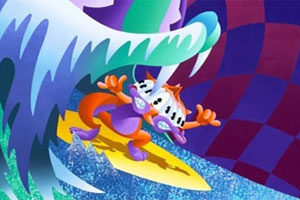 It wasn't really MGMT's intention to top the radio charts, but their 2008 debut album Oracular Spectacular did just that - singles Kids and Electric Feel were blasted from every cheap chain store and its choruses were screeched by every teeny bopper and their BFF.
It's unlikely kids will sing along to the tracks on the band's second album, Congratulations.
The nine tracks are largely a collection of egotistical poems that believe it is naff to rhyme, and even more naff to make sense. That may all sound a bit narcissistic but the end result is actually deliriously fun.
Opening with a quick tempo and dusty vocals that could have been plucked from a 60s track, It's Working is the first sign MGMT no longer see themselves as a New York pop duo on a sugar-high - these days they are a five-piece band that's not afraid of getting a little bit weird. Each layer of fuzzy instrumental on the track, and the additional vocals of Britta Phillips, take it further into the colourful warped dreamland hinted at by the creepy, quirky cartoons on the cover.
There is a chance this album could actually be offering congratulations to all those whose music has influenced the band. Not only does it feature the gothic bruised electro of Song For Dan Treacy, written for the leader of English band Television Personalities, but also Brian Eno - a (perhaps unintentionally) hilarious retro number with the lyrics, "we're always one step behind him he's Brian Eno, Brian Eno".
Meanwhile Lady Dada's Nightmare is a four-and-a-half-minute haunting instrumental piece muffled by eerie organs and rattled by murderous screams.
But MGMT's somewhat spiritual reinvention has not entirely alienated their electro-pop fans. Someone's Missing opens with a melody very similar to the previous album's Weekend Wars. In fact any of the debut's tracks - other than its singles - would probably gel well with this new album. Though the catchy choruses have disappeared, there are still plenty of pop elements, and Someone's Missing has elements of a tune that could have been the opening to a Jackson 5 track.
Flash Delirium, which already has a gruesome music video to accompany it, is really a party-pop track of fuzzy, heavy electro that happens to melt into everything from a child's choir to punkish yelling.
Closing track Congratulations, which opens with strings reminiscent of an Asian orchestra, becomes an acoustic-strummed confession about how the band felt when they were suddenly fussed over like pop stars two years ago - a bit uncomfortable. The album ends with some light applause, and though some confused fans call that conceited, really it's well deserved.