Passing (Atoll, through Ode Records)
Rating: * * * * *
Verdict: An impressive collection of orchestral music from both sides of the Tasman defines state of the art.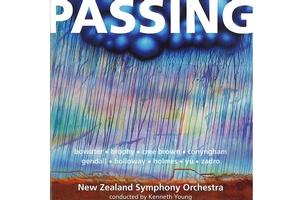 Passing, the latest release from New Zealand's most energetic and enterprising label, Atoll Records, is a time capsule of orchestral music from Downunder as we edge our wayinto the second decade of a new millennium.
This splendid disc offers nine works, all performed by the New Zealand Symphony Orchestra under Kenneth Young at the 2007 Asia Pacific Festival.
To sceptics, it might sound like a generously funded cultural accessory, destined to be tucked away in conference tote bags, but it is much more than that.
On the Australian side, Barry Conyngham's Passing, a tribute to Japanese composer Toru Takemitsu and the longest offering on the disc, is a restless, roving requiem.
Bold and even angry in its eruptions, it also catches the meditative style of the Japanese composer in its shivery textures and liquid flute writing.
Water is the source of Julian Yu's Future of Water, a dramatic journey from raindrops to roaring ocean, complete with a slightly mystifying final chorus.
Gerard Brophy's Republic of Dreams, compulsively infectious at first, spearheaded by harp and exotic percussion, becomes less so as it works through its eight minutes.
Finally, Mark Zadro's Promiscuous is a score with an agenda, asking us to scrub our hang-ups and enjoy the music that is all around us. Late-night trumpet, Psycho chords and rhythmic slashes from The Rite of Spring punctuate a pulsating, brilliant piece of writing. The Kiwi contingent pits Chris Cree Brown's evocative Icescape, in which you can almost sense Antarctic textures on slivers of sound against the joyous sonic toss-and-tumble of Helen Bowater's New Year Fanfare.
Chris Gendall's So It Goes is also high-octane stuff, framing a taut middle section with music that could be a take on the themes that Lalo Schifrin wrote for TV thrillers like Mission Impossible and The Man From Uncle.
There is space for contemplation in Leonie Holmes' Frond, catching childhood forest fantasies in exquisite chamber music filigree, and Samuel Holloway's Fault, although it delivers the decibels in its eventual climactic blast, beguiles us with woozy, winning sonorities in which you can almost taste the tang of raw woodwind.