Rating: 4/5
Verdict: Deranged debut from NZ upstarts.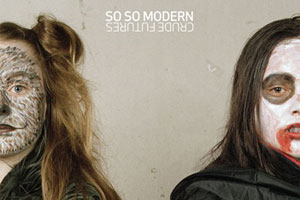 After a string of EPs and vinyl releases, globe-trotting Wellington four-piece So So Modern - who recently completed a six-week jaunt around Europe - have come up with their debut album. And it's an agitating slab of local sonic rock.
Not to mention dancey, dissonant and at times delightfully unruly, like when six-and-a-half-minute instrumental Berlin changes midway through from a stealth lope into a more harrowing and stabbing groove.
They recall the Mint Chicks, only not as poppy and more math-rock; there are moments of schizophrenic and frenzied New York act Battles; and then elements of post-punk, industrial, and dance music.
It's when the churning fuzz of Dendrons kicks in, or they merge tranquil post-rock and jaunty sparkling dance rock on Dusk & Children that they are at their best. They build up a pushy and cocky intensity that leaves a smouldering hot brand on your chest.
While it might sound like many things jammed into one and not particularly focused, it's obvious So So Modern love many different styles of music and want to indulge their passion.
And on Crude Futures they bring it all together in a beautifully riotous way - much like their live shows.
If you don't like it, can't handle it, or don't get it, don't listen. One gets the impression they won't give a hoot. But for those who are keen this is a rowdy and rewarding listen.