Rating: 4/5
Verdict: Local duo mine the past to create futuristic dance music.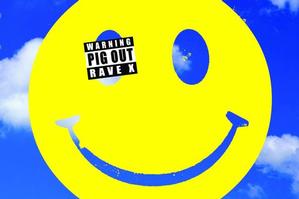 Let's take a trip back in time to when ravers wore gas masks, and if you weren't wearing a mask you were blowing a whistle, while dancing to yabbering happy hardcore and banging beats that send you raving mad.
That's the sort of heady atmosphere Auckland-based duo Pig Out (Marie Celeste and Kit Lawrence) conjure up on their debut album. Rave X brings together everything from shin-shattering dub step, swinging breaks, frantic drum 'n' bass, and both nasty and fast techno to create something fun, ambitious, and new. All the while being unashamedly retro too.
On opener, Wicked, the piano stabs that sound just as epic as they would have 20 years ago give way to a mix of dour dubstep and minimal techno, before the jittery and twitchy dubstep of Top Boy takes off into the break neck drum 'n' bass meets chipmunk techno of DWM (Dance With Me).
Then there's the tinny hammering of Genius, which is like being stapled to the back wall of the club in your boiler suit. It's tracks like this, and the schizophrenic twists of the title track, that make you feel like a dancefloor rebel.
The highlight is Hype, with the cheeky and speedy mantra of "happy hardcore" throughout and breathless and fractured beats bringing on a brain injury, yet somehow Pig Out manage to get a glorious groove on. Rave X is what you might call a banging good time.