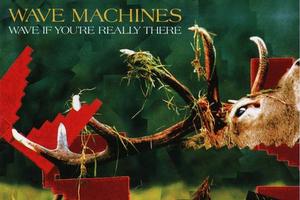 When Wave Machines open with "the day is wasted, if you're not wasted" to an irritating three-note tune, it's just another mask.
The Liverpool four-piece, who try to disguise their identities through chopped and pixelated images, are more thoughtful nerds than a bunch of drunken simpletons. And they're church-goers too - this was recorded in the organ room at Liverpool's St Bridges, complete with cloak cupboard as vocal booth.
Their dance-pop single I Go I Go I Go - lyrics of a punctured heartbreak ground up with simple synth melody - stakes out the band's own ground plot among other preppy electropop acts of the moment.
Moving between military rock in Punk Spirit, cheeky percussion teasers in single The Greatest Escape We Ever Made and frontman Tim Bruzon's lofty musings in the title song, this debut album is diverse and intriguing.
Whether it's a track that's been stripped back to a few notes, or layers of percussion blended and splattered at the speakers, the album is friendly, jolly and at times profound.
The real test to its longevity, though, will be how long it takes for the fun to wear off - and how many times we can stand singing along to I Go I Go Go.
Jacqueline Smith