Rating: 4/5
Verdict: Got them old cosmic blues again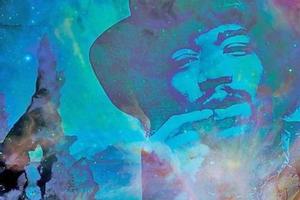 Given there's hardly been a shortage of Hendrix albums since his death in 1970, the question is: Why had this album gained so much attention?
Two reasons. First, Sony struck a deal with Experience Hendrix which handles the singer/guitarist's estate and his catalogue is being spruced up and repackaged. So alongside this "new" one his key albums - Are You Experienced, Axis: Bold As Love, Electric Ladyland, the live Band of Gypsys, and the posthumously reconstructed First Rays of a New Rising Sun - are now re-presented as enhanced discs (videos, interviews etc) with informative booklets and "making of" docos (except on Band of Gypsys) by Bob Smeaton who did the same for the Beatles catalogue.
The second reason is that Valleys of Neptune collects studio sessions from (mostly) '69 and feature (mostly) the original - and best - band that Hendrix had, the Experience with bassist Noel Redding and drummer Mitch Mitchell.
It is therefore a coherent, consistent collection of previously unreleased studio sessions which have been mixed by Hendrix's longtime studio engineer Eddie Kramer, and most attribute Hendrix as the producer.
There is an authenticity to this album woefully lacking in many posthumous releases. And best of all, much of this is thrilling: there is the long rumoured title track; a seven minute-plus treatment of his original blues Hear My Train A Comin (the Experience version here restored, a version with other musicians overdubbed appeared in '75) and a slow, measured eight-minute Red House; that distinctive, incendiary guitar on a six-minute version of Elmore James' Bleeding Heart and his brittle deconstruction of Cream's Sunshine of Your Love; the stabbing pop-rock of Mr Bad Luck (which recalls House Burning Down on Electric Ladyland); the instrumental Crying Blue Rain which nods to both Hey Joe and Voodoo Child ... Admittedly Ships Passing Through the Night is a lesser piece and the version of Fire (aside from the guitar part) doesn't improve on the original.
But after four decades of live albums, radio sessions and bootlegs of dubious value, the power and integrity of Valleys of Neptune (with a cover photo by Linda McCartney) delivers guitar rock beamed in from another era, but sounding as exciting and innovative today as it was all those decades ago.
- Graham Reid (elsewhere.co.nz)