Spohr: Symphonies 3 & 6 (Hyperion, through Ode Records)
Rating: *****
Verdict: "A forgotten Romantic Symphonist is brought back into the fold"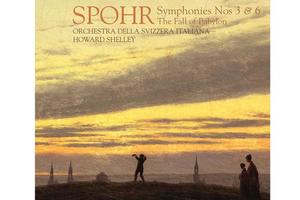 Twenty years ago, Louis Spohr was a figure in the footnotes of learned music tomes. His oratorio, The Last Judgement, a particularly sanctimonious specimen of the genre, had been a mainstay of choral societies during the Victorian period; more recently, chamber musicians searched out his Octet and Nonet when they wanted to beef up numbers.
Spohr himself was a celebrated violinist, bowing a niche for himself in history by inventing the shoulder rest and Hilary Hahn's glowing account of his Third Violin Concerto a few years back must have played some part in the current revival of his music.
Later in life, Spohr put more store on his career as an orchestral composer and Hyperion Records has committed to releasing a full cycle of his 10 symphonies on CD.
The latest instalment, beautifully delivered by Howard Shelley and his Orchestra Della Svizzera Italiana, couples the third and sixth symphonies, with an overture for a now-forgotten oratorio, The Fall of Babylon.
The sheer bloom of the wind playing in this overture is guaranteed to catch your attention and, if you are fond of a bracing Allegro a la Schumann, then you will be suitably diverted through to its final cadence.
The Symphonies are made of sterner stuff.
The Third, written in 1828, just a year after Beethoven's death, opens nobly, with an eerie premonition of Elgar at the 30-second mark. After that, Mendelssohn is the comparison that comes to mind, although - interesting this - Mendelssohn's symphonic works had yet to be written.
Shelley and his musicians, sumptuously recorded, imbue what could be lightish writing with real substance; a Larghetto with the potential to be willowy, bristles with energy, and the Scherzo hurtles on as if Beethoven himself were on its tail.
The Sixth Symphony is a curiosity, a series of pastiches, in Spohr's own words, "a Historical Symphony in the Style and Taste of Four Different Periods".
Moving from fruity mock-Handel to a storm of a Finale that finds the German composer joshing the "moderne" of 1839 by looking to modish French styles, it is delivered with such elan that one is impatient for Hyperion's next serving of symphonic Spohr.