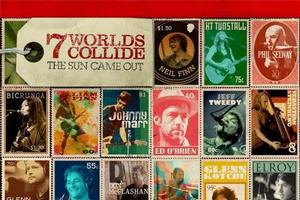 Rating: * * * *
This can't be a charity album, surely. Where are the syrupy songs pleading for compassion? The lyrics that rhyme "feed" and "need"? The children's singalong choruses?
Well yes, there is one of the last of those on Reptile, a cute and wobbly little track, lyrics from which inspired the title of this double set by the supergroup, gathered by Neil Finn in his Auckland studio over three weeks of last summer.
But while the proceeds from this are going to Oxfam, it doesn't require chartitable ears to appreciate the many fine songs among its 24 tracks. And that despite a phonebook's worth of writing credits - including many songs penned or co-penned by N, T, L, S and E Finn - this emerges suprisingly cohesive. Thematically, too, there are dots that can be joined with a few tracks contemplating the meaning of family. That's whether it's Radiohead drummer Phil
Selway's fetching fatherhood ballad The Ties That Bind Us, or Neil and Sharon Finn's duet Little by Little which muses fondly at their "kids turning into men".
Apart from the host clan, the other most prominent presence is those of the four members of Wilco with frontman Jeff Tweedy's acerbic You Never Know, a song which also features on the American band's own new album.
Here though, it's just one rousing track among many on this likeably oddball pop-rock set that fans of the constituent acts will find most rewarding. It might be a little too long, but its spontaneous spirit proves quite infectious.
Russell Baillie